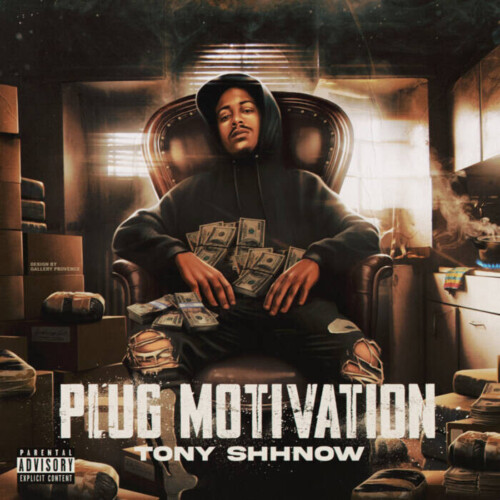 Atlanta rapper Tony Shhnow has shared his new project Plug Motivation, and a new video "Trust".This project serves as a follow-up to his 2022 project Reflexions which earned critical-acclaim, as Pitchfork describes––"The level of lyrical and musical comfort Shhnow displays on the album is almost unnerving." In August, Tony linked up with R&B superstar Brent Faiyaz, who called him "one of the best writers he's ever worked with", for the "Don't Look At Numbers" (Remix).
As noted in the recent Soundcloud mini-doc Scenes: plugg, Tony Shhnow has served as a quintessential figure in the rise of "plugg" music– the dreamy and lucid sub-genre that has taken Atlanta by storm, and now he's returned to redefine the sub-genre with the release of Plug Motivation. The title of the project and cover art pays direct homage to the iconic Jeezy album Let's Get It: Thug Motivation 101, a testament to Tony's respect and love for his city. Across 23-tracks, Plug Motivation is filled to the brim with ethereal beats, air-tight rhymes, and imaginative lyricism. The project has an all-star lineup attached to it including production from the forefathers of "plugg" MexikoDro, Cash Cache, StoopidXool, and more as well as notable features from Seddy Hendrinx, Bear1Boss, & Diego Money. The track "A to Z" is a welcomed lyrical exercise for Tony, as he provides a bar for every letter in the alphabet––an exhibition of his seasoned craftsmanship and ear for conceptual ideas. On "Don't Know"––Tony links up with Florida crooner Seddy Hendrinx, as the pair deliver sanguine verses detailing late-nights escapades over shining and glossy instrumentation. Leading up to the project, Tony released a pair of well-received video singles, "Life N Hard Times" and "Can't Say I'm Broke". The new video "Trust" shows Tony appropriately rapping in sub-zero temperatures, as he waxes poetic about flexing in the club, romantic rendezvous, and maintaining his lifelong hustle towards success. After bringing "plugg" to the forefront of hip-hop over the past few years, Tony Shhnow is ready to bring an entirely new flavor to the scene with the release of Plug Motivation.
© 2022, Seth "Digital Crates" Barmash. All rights reserved.