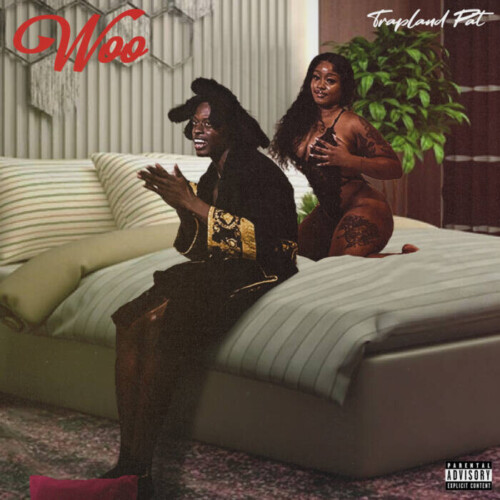 Mixing assonant rhymes and furtive flexes into suave South Florida jams, Trapland Pat is South Florida's next to blow. The Deerfield Beach native works his magic on a potential partner in "Woo," his smoothly sensual new music video. Contrasting booming 808s with flashy flecks of guitar and rippling piano rolls, "Woo" finds Pat working an easygoing flow, taunting his opposition with boastful, yet blasé bars: "They be asking where that body at?/I was catching power players, where's the lobby at?/Dog food, I can show you where the doggy at/That n**** tellin, how do they know just where they saw me at?" he croons. In the video, directed by Pat's frequent accomplice ShotByJolo, Pat spends a romantic night at his mansion with a beautiful women, the former D-1-recruited athlete looking luxurious in his Versace robe and matching slippers.
"Woo" continues a hot streak of singles by the Broward County breakout, immediately following the videos for "Road 2 Riches," "Z Land," and "Vibes." Pat made his mark earlier this year with the acclaimed Trapnificent mixtape. Pat's first release for Bang Biz and Alamo Records, Trapnificent rolls out the red carpet for a tasteful selection of guests, including Fredo Bang, his Bang Biz boss who appears twice on the tape, Sacramento street hero Mozzy, NYC Winners Circle maestro Eli Fross, and Memphis' own BIG30. Trapnificent earned praise from Pitchfork, who called the project a "zippy distillation of his regional roots" and said that Pat's music is "extremely regionally and culturally specific, like so much exciting and promising new rap music."
Ready to build on his impressive 2022 and bring his searing street raps to a larger audience, Trapland Pat has the goods to be his state's next big star.
© 2022, Seth "Digital Crates" Barmash. All rights reserved.