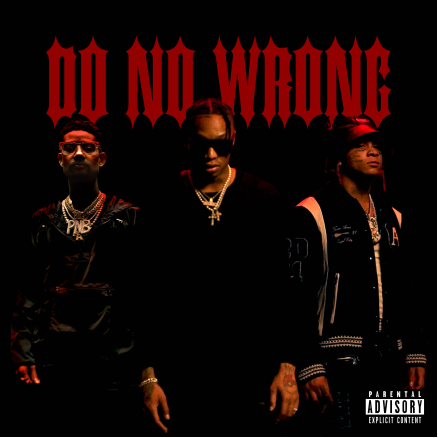 Kicking off the new year with intention, hip-hop's resident rising rockstar Tyla Yaweh unleashes a new single and music video entitled "Do No Wrong" [feat. Trippie Redd & PnB Rock]. Get it on all DSPs HERE via London Entertainment/Epic Records and watch the video HERE.
On the track, sinewy guitar snakes around a skittering beat as multiplatinum phenomenon PnB Rock carries the immediately alluring hook. Tyla pulls up with an emotionally charged verse before Trippie Redd counters with a soaring cameo of his own. The track unites three of the game's most inimitable and innovative disruptors on one poignant blockbuster that cuts deep. The accompanying visual was directed by Tyler Yee [G-Eazy, Lil Yachty]. It spotlights Tyla covered in blood as he raps to the camera from a Saw-style cell. The clip seamlessly threads together dark vignettes as the trio come together under moody spotlights in epic fashion.
It arrives on the heels of 2021's "Hands Up" [feat. Morray]. The track has already amassed near 5 million streams and over 10.5 million cumulative views on the explosive music video aross platforms Inciting critical applause.
He maintains his unprecedented momentum from last year. Known for his rapturous and high-octane live presence, Tyla ended 2021 performing to sold out crowds on with SAINt JHN on a 3 month tour in addition to gracing the bills of Rolling Loud Miami, Rolling Loud New York, Rolling Loud Los Angeles, Day n Vegas, Hive Festival, and more.
"Do No Wrong" sets the stage and heightens anticipation for his anxiously awaited full-length debut album, RAGER BØY, which is set to be released in the coming months.
Nearing 1 billion streams, it should come as no surprise that the L.A.-based artist is ready for his close-up. In launching the lead up to RAGER BOY, he achieved his first Billboard Hot 100 hit with 2020's Post Malone-featuring "Tommy Lee." He followed that up with "Stuntin' On You," which included a scorching DaBaby feature. Both tracks received special remixes, with SAINt JHN and Tommy Lee himself remixing "Tommy Lee," and DDG and Dame D.O.L.L.A. joining Tyla on a new version of "Stuntin' on You." 2021 kicked things into overdrive with the release of the epic "All The Smoke" (feat. Gunna & Wiz Khalifa), which became the theme of NASCAR's Daytona 500 this year. On its heels, Tyla shared the summer anthem "Back Outside" and the fall's "Hands Up" [feat. Murray].  In addition to his run of solo successes, he's also appeared on a string of engaging singles by other artists, including Jay Wheeler's "Take My Life," RMR's "Vibes," and DDG's "Hakuna Matata."
Tyla Yaweh achieved his third RIAA-certified Gold record for "Stuntin' On You," with "Tommy Lee" and 2019's "High Right Now" taken from his debut project HEART FULL OF RAGE having previously achieved Gold status.
Alongside the accolades, Tyla Yaweh continues to receive acclaim. As he does so, the Orlando-born rising superstar continues to light up 2022. Get ready to continue raging.
Follow Tyla Yaweh
https://twitter.com/TylaYaweh
https://www.instagram.com/tylayaweh
https://soundcloud.com/tylayaweh
https://www.facebook.com/tylayaweh
© 2022, Seth Barmash. All rights reserved.