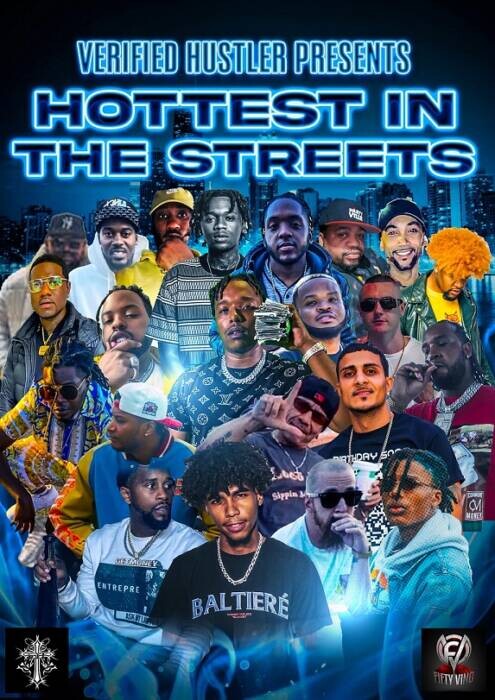 As the year comes to an end and a new one begins, Verified Hustler Records put together a dope mixtape with the hottest artists from all around the world to showcase some of the best hip hop music this year. "Hottest in The Streets" features these talented artist's hottest hits of 2022. These are names and faces you definitely want to get familiar with! Check out this dope tape now. Read more on Verified Hustler Mag and 6ixCloutTV.
98 Prynce – "Low Profile" – Portland based singer and rapper 98 Prynce is having the best year to date with his music career. His critically acclaimed single "Low Profile" is his most successful single of his career with over 300k streams. He has worked with notable artists and producers such as Jay Critch, Playboi Carti, Tokyo's Revenge, Sol. Luna, Metro Boomin, Sonny Digital, and Cassius Jay. 98 Prynce is set to release his long awaited debut project "Home Town Hero" in the next coming months. Be on the lookout for an impressive body of work with many different styles and tempos. IG: @98prynce
Bg5ive – "Use Me" – Irish rapper Bg5ive, who is based in Toronto, has just returned with his brand-new single, "Use Me". Another impressive entry into the emerging rapper's growing discography, "Use Me" hears Bg5ive flex his passionate rap flow and impressive lyrical abilities over an eerie, bass heavy beat from two of the games most talented young producers. The track is accompanied by an equally memorable music video. Speaking more on the new release, Bg5ive says, "Usually my songs are just a reflection of my life at any given time. When I made "Use Me" I had a lot going on, I was just going through a bad break up at the time, and when I heard the beat in the studio that night, I just started vibin', I knew straight away what I was gonna do with it. It's definitely a personal track, and I feel like most people can relate to it." Oozing with star quality throughout both the song and video, it's clear Bg5ive has an exciting future ahead. And with more singles lined up for release, it will be interesting to hear what he does next. IG: @Bg5ive
Bri Money The Hustler – "Double D's" – Bri Money The Hustler is an upcoming Bronx, NY based artist, entrepreneur, and hustler. Known as the jack of all trades, Bri Money is gaining global attention with his new hit single "Double D's". The talented artist has performed in every borough in New York and continues to make a name for himself globally. He always told himself that if he ever decided to get into music, he would go with an Uncle Luke vibe to give the new generation that 80's/90's old school feeling in a new environment. Bri Money The Hustler has since gone on to perform with Uncle Luke, who gave the artist praise. It is only up for Bri Money The Hustler!! IG: @BriMoneyTheHustler
Butta The Preacher – "Crazy About God"  – Award winning gospel rapper Butta The Preacher from Indiana is starting a new wave with "Crazy About God" ft. Shallon Tore" & Emcee Nice. He is taking the church to the streets with his witty punchlines and unique sound. He describes his new upcoming single as the Holy Anthem. C.A.G. will be a popular acronym. IG: @ButtaThePrecher
Cam Dolla – "Put It Down" – Cam Dolla is a rising Atlanta based rapper, song writer, engineer and producer. The talented artist has accumulated millions of views and streams on YouTube and Spotify. He has performed and worked with artists such as: Moneybagg Yo, Lil Baby, NBA Youngboy, 21 Savage, Foogiano, Pooh Sheisty, Gucci Mane, Lil Boosie and more. IG: @CamDolla_
Cardi A – "Full Time" – Cardi A, the A stands for Alien, is an independent artist from Illinois. The artist is a legend in his state. "Full Time" is a song explaining how Cardi A bossed up and did it with no help or support.  He is a real one man army. Check out his new hit single now! IG: @therealcardi_a
CasinoATX – "Wanna Ride" – CasinoATX drops "Wanna Ride" from his stellar album The Street Nerd. With a hard trunk rattling beat from his stalwart production team RawWitDaDaw, Casino delivers a southern pimpish flow, about the ladies' love of his immaculate cars. With the launch of the video and the backing of DJ Chuck T, "Wanna Ride" is a joint you definitely want to check out! IG: @CasinoATX
Elive BeeHive – "Activated" – Up and coming artist Elive BeeHive is a 25 year old Philadelphia based artist. He's had 2 songs played on Power99 radio and has been in a snipes USA x New Era cap commercial that has over 138,000 views on YouTube. Check out his new single "Activated" now. IG: @EliveBeeHive
Fifty Vinc – "We Gonna Make It" – Fifty Vinc, the name stands for crisp hip-hop/rap beats and epic compositions, made in Germany. The German-based music producer and composer with American roots, Vincent Jewell, inspires fans around the globe. Known for his epic productions, he has already produced songs for I'll Bill, Celph Titled, D12 or Slaine. His latest single "We Gonna Make It" fuses the classical epic sounds with the modern hip-hop beats, and is full of energy and motivation. Whether for sports, TV, film or advertising, the song fits in any case. IG: @FiftyVinc_Official
Flyboi Rell – "Luck" ft. Woodah Three Times – Currently stationed in Brooklyn, New York artist Flyboi Rell teams up with Woodah Three Times to give their audiences the triumphant single titled "Luck". The track starts off with an inspirational trumpet that evokes a sense of victory. Flyboi Rell comes in with an onslaught of lyrics that gives the audience the sense that he has overcome a monumental struggle. With lyrics such as "down on my luck down on my bucks."; " We leveled up " and others the audience gets a look into his story and personal conviction as an artist. IG: @FlyBoiRell_
Getmoney Dro – "Dangerous" – Born & raised in Philadelphia, Getmoney Dro has become one of the hottest artists out in 2022. He just released a new single called "Dangerous" The song was a hit with over 100k streams and sales in the first week. His next project to drop in 2022 is called "Wing With It", which is expected to be the biggest & hottest song to drop in 2022 .Bc Records is the major label he is signed to. He was their first artist that they ever signed. Getmoney Dro has features with major artists such as Fat Joe, Jadakiss, Murda Mook & Fred Da Godson. He has a unique style that motivates and captures your attention you can't help but to listen. He has also been seen on the stage opening up for artists such as Lil Durk , Meek Mill & Sim Santana. He is expected to be the biggest artist of all time! IG: @GetmoneyDro215
Haze OPC – "Push Your Way Thru It" – As 2022 is coming to a close and the holidays are approaching, Haze OPC is smiling thinking about the obstacles he faced throughout this year. Persevering and pushing through strongholds, Haze OPC has released the critically acclaimed classic album,  MyGODMySelfMyFamily&I In GOD We Trust. Boasting proudly on the highly unique and sought after tracks "Together" and "All White (Feeling Godly). Recently named artist to know, International Haze is set to drop his new single "Push Your Way Thru It", which he's sure will have a major impact on all listeners from every walk of life. IG: @mr_paper_chaser_opc 
Hotboy Spiffy – "On The Road 2" – Hotboy Spiffy is an up and coming artist hailing from Georgia. His melodic voice along with his relatable street ballads captivates audiences young and old. His motivation and pain ridden sound can be heard in his hit single "On The Road 2" where he expresses his love for his older cousin "SK" who tragically lost his life. Be on the lookout for more music as he does not plan on letting up any time soon. IG: @HotboySpiffy 
Iceman D.B.H – "Henny No Chaser" – Buzzing out of Brooklyn Is East New York's own Iceman D.B.H. Dropping some heat with his hit single "Henny No Chaser". The song has been circulating through the New York club scene and even in the U.K. on the radio. The visuals for the song can be seen on YouTube and has everything from nice luxury cars, women, and him and his gang turning up. He is definitely a rising star about to reach fame very soon. IG: @mr_so_icey
Jay Lucci – "New Orleanian" – Jay Lucci is an artist you want to have in your shuffle as a hip-hop fan. He is a rapper from New Orleans, Louisiana. His sound brings you an authentic New Orleans viewpoint while dazzling and entertaining you with punchlines and vivid descriptions. He is gearing up to release a new project called the New Orleanian which should be one of his best releases yet. If you want to hear authentic southern rap, Jay Lucci is someone to have on your radar. IG: @CMJayLucci
Jusssssto –  "When You Walk My Way" – Jusssssto just released a new hit single "When You Walk My Way", which combines drill rap with a touch of poetry. The song sounds incredible as Jusssssto uses his emotions to describe love at first sight. The words that listeners repeatedly repeat "You Can Tell My Pockets Fat – I Ain't Tryna Buy No Bag But I'll Pay You For That Cat" stands out tremendously. He erupts the intro with a smooth countertenor as the beat slowly begins to add bass. When You Walk My Way is desired for the slow jams night, oldie but goodie, a playlist or station where a love song is needed. IG: @ MusicByJusto
Levi Deadman – "Mothership" –  Levi Deadman is a native Texan with a new unique sound different from any you've heard. He blends syllables seamlessly and changes his flow, melody and rhythm multiple times every song. After spending three years in prison and crafting a new style, he was released from TDC, and like a phoenix who rose from the ashes, was reborn. Not today or ever in the future will there be an artist like Levi Deadman. IG: @Levi_Deadman
Loco Los – "Sippin My Cafe" – Loco Los is an independent artist from Tampa, FL who continues to trend with his hit single "Sippin My Cafe". This is the highest streamed song from his most recent album "Return of the Los", which has 9 songs showcasing the artist's talent and versatility. Sippin My Cafe did so well it generated the push to complete Loco Los' first music video ever! IG: Loco_Los_813
PacSlim – "Grow through the Process" – PacSlim introduces TK6 on his upcoming album in releasing his final single FYI, off his 2nd album Rich Tendencies. With his 3rd album titled pac-slim, TK6 ain't got no problem with his aka's…6ixfigure is the motive. IG: @tk6yf_15
Rashadsofly – "Heart Breaker EP" – Rashadsofly has been making a tremendous effort in his music. His latest project "Heart Breaker " has been gaining attention and he features hip-hop artist Euro Gotit aka King Gotit & Mkgoinup. This EP gives you a melodic side of Rashadsofly letting you actually connect with his other side.Check it out now! IG: @Rashdsofly 
Renzo D Don – "American Gangster" – Renzo D Don is back with more heat! The talented Michigan based artist delivers in his new hit single "American Gangster". He first started writing music at 16 and was recently discovered by Fat Joe and Jadakiss. Renzo D continues to make great music. Check out his new video "Tik Tok song pt. 1" out now! IG: @RenzoDDon
Sledge Dibiase – "French Toast & Mimosas" – Sledge Dibiase returns with the grown & sexy vibes on his new banger "French Toast & Mimosas". This soulful track is produced by Max Dollas & is perfect for brunch vibes & fun good times. It's the lead off single for his upcoming Lp "Fly and Wonderful 2" which is set to be released Nov. 11th. Stay tuned‼️ Also, check out the HD video "Growth". IG: @Sledge_DiBiase
TheWizJ.Will – "Fire Flame Spitta" – Rising artist TheWizJ.Will just dropped a hot new single titled "Fire Flame Spitta" off his most recent EP "Street Smart Book Smart 3", out now on all major streaming platforms. IG: @TheWizJ.Will 
Tree Boogy – "Life Too Short" – Tree Boogy is back with a hot new joint titled "Life Too Short". His new single is about focusing on life's important moments and realizing what's real and fake. Check it out now! IG: @TreeBoogy
© 2022, StanleyGatero. All rights reserved.