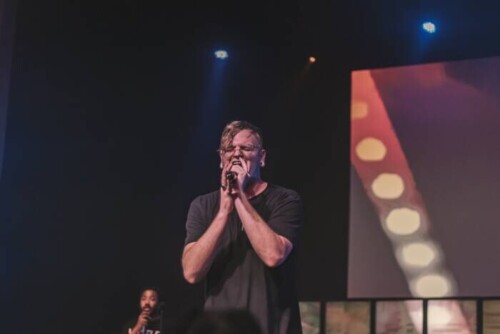 Kurtis Hoppie is an artist and songwriter focusing on creating music that fuses various elements, going for a very one-of-a-kind sound and a personal feel. Real-life experiences and personal breakthroughs inspire his songs. Still, first and foremost, Kurtis Hoppie is a natural-born storyteller, someone who knows how to harness the power of music to inspire people and share a powerful story with his artistry and sounds.
Kurtis Hoppie has been passionate about making music ever since he can remember. As a young person, he was very impressed with some of his favourite artists such as The Beatles, Best of Woodstock, Sublime, Eminem, and his brother Chris Hoppie only to mention a few––they inspired him to pursue songwriting and take his music creation game to the next level. Listening to music was a fantastic gateway for Kurtis Hoppie to actually get his start in the industry and try his hand at making songs of his own. Eventually, he developed a distinctive original formula, which feels like a winning combination of different styles while still retaining his strong, one-of-a-kind personality. This talented artist has a unique background. He has been making music for a few years now, and he was previously available under another artist moniker: Triple The33. Under that name, he actually had the opportunity to tour quite extensively, bringing great music to the audience pretty much everywhere he went. In addition to making catchy and relatable music, what makes Kurtis special is the fact that he endows so much meaning and passion in his work, being a Christian artist who is determined to create songs that will not only entertain the audience but also inspire people and be the soundtrack to their lives that ignite perspective on life and faith.
We live in a time that is incredibly depressing and dark for many people, and at times, it is pretty easy to feel discomfort and disillusion in the future. However, Kurtis is here to tell people that everything happens for a reason, and if they have faith in God's more excellent design, everything will be alright in the end. Kurtis makes music meant to be comfort and joy to the audience, but also awareness and insight into something greater than themselves. After one of Kurtis' performances, the artist was approached by Adam Hagaman. Impressed with Kurtis, his music, and his values, he was determined to help him bring his music out there, so he donated some money to the artist to complete the recording of his last record billed as Triple Thr33. The album was titled "Mansions In The Sky," It felt like a perfect closing chapter for an essential part of Kurtis' life and music career. The album became an overnight success, receiving praise from fans and audience members alike. Adam and Kurtis also got together to create One Vision Army. Still, there was another significant change in the making: Kurtis decided to take the leap and abandon his previous moniker to introduce himself with his birth name: Kurtis Hoppie simply. This was a bold and brave move since going with your actual name is an excellent way to create an even deeper and more genuine connection with the audience.
One of Kurtis Hoppie's most recent releases is a project titled "Problem Child." This is a perfect introduction to the beautiful soundscapes that you can expect from this talented performer. It feels like a one-of-a-kind combination of many different genres with a more melodic yet still understated vibe. The sound of the EP features elements of emo-rap, trap, and more. This release is a truly impressive milestone for Kurtis, who is quickly establishing himself as one of the most exciting artists in the world of Christian music in general. He is a true powerhouse and a force to be reckoned with, as he continues to hone his craft with every new release, connecting with people of all backgrounds through his exciting and modern approach to making music that matters.
Please find out more about Kurtis Hoppie, and do not miss out on his music.
Instagram
www.instagram.com/thekurtishoppie
Spotify
https://open.spotify.com/artist/2eR1Z2cyHOS4gFgA2GbRl8
Youtube
https://www.youtube.com/channel/UCIR10g1HVLaYF2vHuBa6u7A/about
© 2022, Staff. All rights reserved.