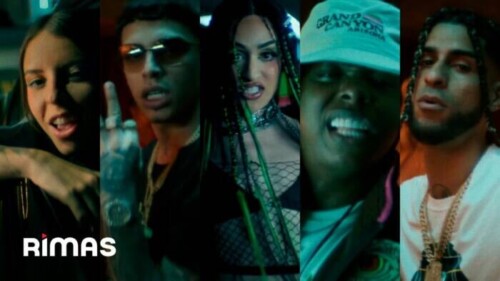 Lyrical and versatile with a rising profile in his native Puerto Rico, Joyce Santana is comfortable on any kind of track. Returning to the club with an inclusive and sexually frank banger, Joyce shares "Besties" (Remix), a star-studded follow-up to Joyce's Young Miko-featuring hit from earlier this year. For this supersized edition, Joyce and Miko return, but also welcomes a new verse Villano Antillano, the first trans woman rapper to make waves in the reggaeton scene who recently earned notice in Rolling Stone, as well as standout performances from red hot reggaetonero Luar La L and rising trap star YOVNGCHIMI. Over the percolating, club-friendly instrumental, the five emcees trade playfully braggadocious bars, occasionally dipping into English to emphasize their promiscuous prowess. The beat also gets a slight makeover, with the addition of militant percussion that marks the transition from artist to artist. Originally released in March, the "Besties" has become a fan favorite as Joyce Santana and Young Miko continue their rise through the reggaeton scene.
The video takes a tour through Puerto Rico's thriving club scene, giving a glimpse of the debaucherous activities that the rappers engage in on the regular. Joyce and Miko take a Tesla to an underground locale, where they run into Villano, YOVNGCHIMI, and a coterie of revelers of all genders and orientations enthusiastically engaging in PDA. Each artist makes their presence felt, as Miko leads a parade of baddies, Luar La L and YOVNGCHIMI get new ink, and Villano gets intimate with a partner in a private room.
"Besties" (Remix) arrives in the wake of Joyce's new EP Despues Siempre Es Tarde, a celebration of the bustling Puerto Rico music scene. The EP kicks off with a solo track, "Sierra Leone," a subdued, yet confident ballad, and ends with the bombastic solo standout "Las 6 En Miami," but the 8-track EP mainly showcases Joyce's range, emphasizing his chameleonic ability to mesh with a variety of tempos, sounds, and artists. On "Por Las Noches," Joyce trades melodic bars with Alejo and Remers over a snappy reggaeton beat, while the popular single "Sin Limite" finds the emcee going toe-to-toe with Ankhal over a bass-booming trap beat. Joyce performs a lovelorn duet with Lula Miranda on "Mordía," and raises a glass with Totoy El Frio on the recent single "One Shot." With an additional appearance from YOVNGCHIMI, Despues Siempre Es Tarde is available everywhere via Rimas Ent.
Joyce is currently preparing a new album to follow in the wake of his momentum-building EPs. Armed with his notebook of bars and a willingness to experiment, he's ready to put the worlds of hip-hop and reggaeton on notice. Stay tuned for much more from Joyce Santana in the near future.
© 2022, Seth Barmash. All rights reserved.