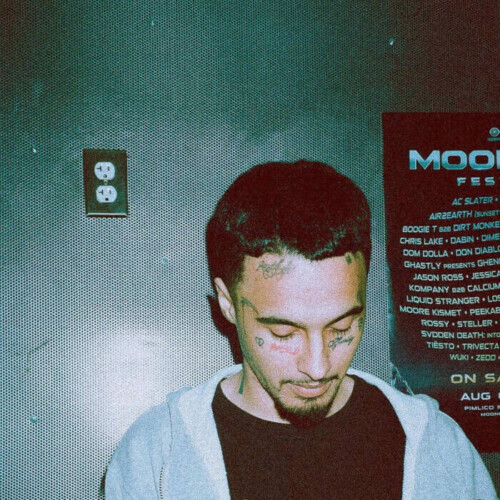 wifisfuneral's cerebral rap music probes his state of mind for an unfiltered accounting of his struggles and successes. Giving into his worst impulses in an attempt to cleanse his soul, wifisfuneral shares 4 Month Binge Before Revenge, his new project. The album receives its title from a recent spiral of depression, self-medication, and furious creativity, his vices fueling the music in his head. A return to the twisty rhymes and dark-night-of-the-soul vibes that endeared him to a massive fanbase as he ascended the South Florida underground, the new album follows a loose storyline, as wifi plunges into the depths of his psyche and emerges out the other end ready for blood.
"I'm not able to be as vulnerable when I'm sober," says wifisfuneral. "When I'm under the influence, it's easier to let it flow, it's raw, it gets right out of my head. Self-medicating. This is the only way I'm able to do it right now."
4 Month Binge Before Revenge is the first wifisfuneral album to feature his own production–the 25-year-old artist has a playful sense of melody, which he uses to create contrast between the music and its dark subject matter. Despite the frank depiction of mental illness and depression, wifi keeps things afloat with his pitch black sense of humor and dexterous lyricism. On mixtape highlight and recent single "Ahhhh," the rapper stacks quotable line after quotable line as he alternates high-powered flexes with self-searching. Along with his own production, wifi's latest features contributions from frequent collaborators Sega, Benda, and Hoku. Home to recent singles "Euphoria" and "Deadwalk," 4 Month Binge Before Revenge is available everywhere via his new label living dead.
Emerging from South Florida's fertile underground scene, wifisfuneral set himself apart with his soul-searching, dense, and lyrical songs. He built a loyal fanbase on SoundCloud and beyond, earning a place on 2018's XXL Freshman list.  Now, wifi returns with a book full of diaristic rhymes and a chip on his shoulder, ready to once again prove his mettle in the unforgiving rap game.
© 2022, Seth Barmash. All rights reserved.