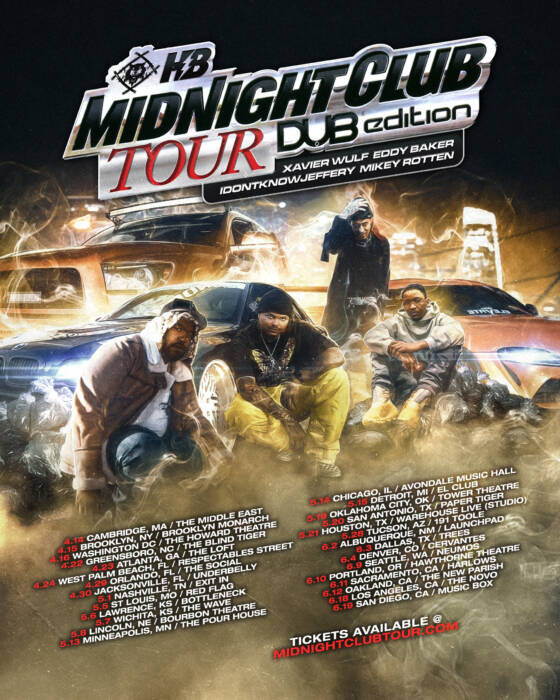 Memphis underground king Xavier Wulf keeps his massive fanbase salivating with his high-octane live performances. With as much gas in his tank as ever, the influential artist sits patiently at the starting line as he announces "The Midnight Club Tour – Dub Edition." Kicking off in Cambridge, MA, on April 14th, and wrapping up in San Diego, CA, on June 19th, the 29-date tour will feature high-energy performances of songs from Xavier's recent GARAGE PUNK EP, a collaboration with Hollow Squad producer Quintin Lamb. Featuring support from from Eddy Baker, Idontknowjeffery, and Mikey Rotten, "The Midnight Club Tour – Dub Edition" promises to deliver every bit of energy of Xavier's punk-rap ethos has to offer, as he promised on GARAGE PUNK EP, rapping, "I'm at the venue, tryna situate my set list/I pour a cup, then I toast to the mosh pit."
Alongside the tour announcement, Xavier Wulf releases the new video for "Hoonigan," the standout intro track from GARAGE PUNK EP. The clip sees Xavier in his automotive element, competing in a nitrous-fueled decathlon with events like drag racing, drifting, doing donuts, and executing the highly-coveted "triple-park." With a tank that's never empty and a motor that's always running, "Hoonigan" shows that, even standing on his own, Xavier Wulf is a one-man demolition derby.
Born in Memphis, Tennessee, and deeply steeped in his home city's musical tradition, Xavier Wulf had a hand in nearly every major underground rap movement in the past decade. Wulf was one of the first rappers to build a following on SoundCloud, helping make the platform the go-to for aspiring rappers and establishing it as a hub of hip-hop innovation. Throughout his career, Wulf has criss-crossed the invisible line between underground and mainstream, racking up hundreds of millions of streams, and playing to sold out crowds across the country.
Pushing his sound forward with every release, Xavier Wulf is not even close to finished with his artistic journey. Stay tuned this year for more videos, an upcoming tour, and of course, plenty of new music.
Buy Tickets for "The Midnight Club Tour – Dub Edition": http://midnightclubtour.com
Watch "Hoonigan": https://www.youtube.com/watch?v=XoYaJZAVnK0
Buy/Stream GARAGE PUNK: http://ffm.to/garagepunk
Buy Xavier Wulf merch, including the new GARAGE PUNK items: https://moonstonecove.com
© 2022, Seth Barmash. All rights reserved.