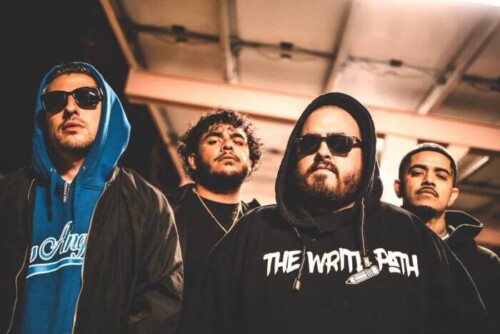 Founded by Juan Carlos Fajardo Jr, better known as emerging recording artist Xpression, the independent record label Kryptic Reign plans to soar to the highest heights in today's music with family at the foundation. And with a current roster of Enrique Maldonado Jr "Bebo Beats" (producer), Rene Humberto Maldonado "Ener" (rapper), Albert Mares-Chahia Jr "LB" (recording artist and songwriter), Mathew Robert Guggenmos "M.R.G" (rapper and emcee), Ramon J Delgadillo "Blvk Dmnd" (hip-hop artist), and newest member Fabyan Azriel Carrillo "Fariel" (Producer), Xpression aims to build his independent music label up with his childhood friends, who have been a part of his musical journey since the beginning.
On the roster, M.R.G.is currently working on an upcoming EP that will release under Kryptic Reign Music and has another feature on Xpression's new Single "Bird Box," featuring Mickey Factz & Don Michael Jr on The Write Path 2 album. LB, him and Xpression have a hit on they hand right now with Barology EP, is gearing to launch his first single titled "Good Sir" featuring Xpression and Ener on May 30 from his first official solo studio album. "Good Sir" is also produced by Bebo Beats.
Outside Kryptic Reign Music, Xpression is building an empire and raising mental health awareness with his mother, Angelica Guajardo. Xpression and his mother have collaborated on a book titled "The Write Path To Creative Self-Xpression," An inspirational Journal of hip-hop poetry and Expressive Arts Activities.
Back to the music, the most recent collaboration was on "48 Laws" by Xpression, featuring Layzie Bone and TMF Precha. Bebo Beats worked alongside Grammy and Oscar Nominated producer Ronnie King who laid keyboards over the instrumental for the "48 Laws" record. Bebo Beats has produced over 50 original songs for Xpression throughout the years on several of his albums.
Follow the entire roster on social media: Kryptic Reign Music, Xpression, LB, Ener, Bebo Beats, Fariel
Check out the new album, Barology, out now, below.
© 2022, Bryson "Boom" Paul. All rights reserved.