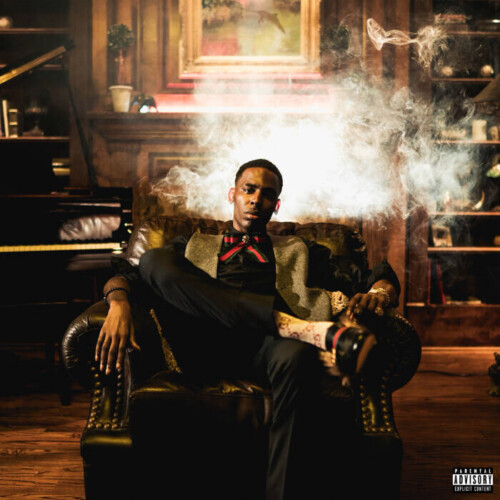 Young Dolph built his legacy on the back of his unforgettable lyricism, emphasizing the importance of staunch loyalty and betterment through financial success. Today, Young Dolph's estate and his label Paper Route Empire present Paper Route Frank, a posthumous album from the proud Memphis native. Completed and conceptualized by the Memphis legend before his passing, Paper Route Frank portrays Dolph as a don surveying his territory, pleased with his accomplishments and determined to make space for the next generation to continue the work he started. Home to standout singles "Hall Of Fame," released on what would've been Dolph's 37th birthday, "Old Ways," the BandPlay-produced, OJay-sampling stunner, and "Get Away," released last month, Paper Route Frank finds the artist at the pinnacle of his songwriting prowess, his hard-hitting anthems alternating between brash, irreverent, and profound.
Spanning 14 tracks, Paper Route Frank drips with the same commanding charisma and booming Tennessee bass that define Dolph's impeccable catalog. The tape features production from frequent collaborators like Paper Route Empire's own Bandplay, Cleveland-born Sosa 808, and Memphis mainstay DJ Squeeky, plus Southern rap sound architects including Dun Deal and Drumma Boy, all of whom rise to the occasion with cinematic, speaker-knocking instrumentals that accentuate each outlandish boast.
Paper Route Frank welcomes a expertly-curated list of guest stars, each of whom had a personal relationship with the rapper. Dolph's cousin and frequent rap partner Key Glock returns to spar on "That's How," and Glock's fellow PRE signees Big Moochie Grape and SNUPE BANDZ make memorable impression in their verses on "Infatuated With Drugs." The album also makes room for star turns from Dolph's peers, including close friend Gucci Mane puts his stamp on "Roster," and 2 Chainz, one of the few in the game who could match Dolph punchline for punchline, on "Beep Beep."
Paper Route Frank arrives on the heels of the Adolph "Young Dolph" Thornton Jr. Day of Service on November 17th, officially ordained by the state legislatures of Georgia and Tennessee last December in honor of Dolph's memory. The IdaMae Foundation, in partnership with The Confess Project of America, honored the legacy of Young Dolph by activating several public service events. Reported on by hundreds of outlets across the globe, #DolphDay furthered Dolph's charitable efforts and reaffirmed the beloved rapper's place in hip-hop history.
If Paper Route Frank is a concluding chapter in the career of Young Dolph, it's a fitting one, painting a picture of a legend at the height of his powers with a clear-eyed perception of his enduring legacy. With his PRE brethren trumpeting his name on each and every track, Dolph's legend will live on in Memphis and beyond.
© 2022, Seth "Digital Crates" Barmash. All rights reserved.