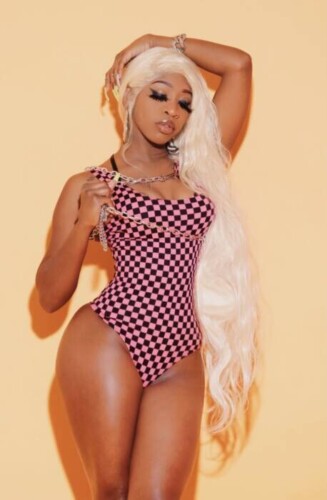 What first got you into music?
Growing up with my brother and sister I was the youngest they We're music heads. Especially rap music listening to the words inspired me to be a rapper myself most of the time they listen to Lil Wayne, cash money, Lil Kim,2Pac Nas and jz That's when I knew I was Destined To be a artist music made me feel safe and helped me. It was my outlet And that's what made me love it and continue go hard wit it.
Who inspire you to make music?
My brother and my sister and all the great artists that they listen to.Also my mom being my manager at the age of 12 pushing me to be great.
If you can go and open up a show for any artist who would it be?
I would love to open up for Nicki Minaj, cardi b,Beyoncé she is my favorite artist also Rod wave,NBA YoungBoy and Lil Wayne
What is one message you would give to your fans?
I would say I will be nothing without y'all. I think you and appreciate you for listening to the words that come from my soul. Understanding and having a heart to heart Feeling when you listen to my music. I love When my fans say "I felt that"I love the fact that we can relate on things. I also love how connected me and my fans are and with the support and the love that my fans give me keeps me going harder and harder! I will say I love each and everyone of my fans.
Do you sing in the shower what song?
Yes I sing in the shower lol But if I'm singing in the shower most of the time it's either Beyoncé or my own music. I love to put on instrumentals and just freestyle the whole time I'm taking a shower I came up with some of my best songs that way.
Where have you perform do you have any shows coming up soon?
I have performed pretty much everywhere! I even performed in the Bahamas on the beach. I have perform for the NBA YoungBoy freestyle challenge winning first place the only female. As far as shows coming up I have plenty shows coming up.I will be in two tours And also will be doing a mixtape release party's where I'll be performing also.
How do you feel the The Internet has impacted the music business?
I feel like the Internet is great for the music business. It gives fans A chance to get personal with the artist it's a great way for the artist to promote their self with their music,personality and image and it's also a good way to network with DJs,record labels, producers etc. the Internet is dope but I do think that the Internet can hurt some people too. Some people can look at other artists instead of working on their own image and craft. The Internet could be peer pressure and brutal.People can say the worst things in the comments make you feel down about yourself so that being said you just have to be strong and believe in yourself believe in your craft block out the haters and get it.
What is your favorite song to perform?
My favorite song to perform is a song called Lately. I love lately because It really gets the crowed hype Men and women can feel the song. Its about how lately I been having enemy's Something so relatable cause people could feel that! people have enemies every day I guess it's a part of life but when I performed it It gets the crowd attention.
What's next for you?
What's next for me is to be the next biggest artist worldwide. I plan on applying more pressure than ever I plan on being a superstar. Continuing to make more music,More visuals being more creative and putting out my merchandise I also have a hair salon. I plan on opening a salon in every state I have plenty goals to reach So it's only up from here.
Instagram: https://instagram.com/dejavu504
© 2022, StanleyGatero. All rights reserved.