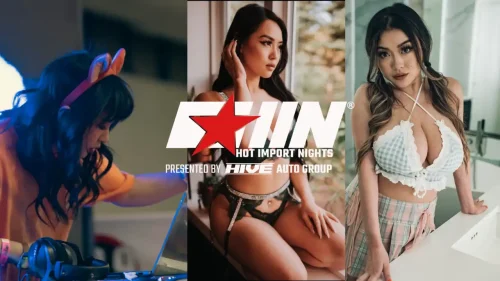 Global Car Enthusiast brand Hot Import Nights continued their 25 year anniversary tour this past Novemeber 20th, 2022 with a stop in Honolulu, Hawaii. The car show featured import cars, hot models, and EDM headliner Freya Fox (Instagram @freyafoxmusic). a future bass EDM artist. The show also featured gamer girl Whitney Chase (@itswhitneychase), Hot Import Night's Allstar Vicki Li (@vickibaybeee), Facebook Gaming Partner Tracy Ng (@tracyy.ng), and models Daylon Muenzner (@daylon_muenzner) and Won Cha (@wonchaful.won)
The show took place at the Neal S. Blaisdell center in Honolulu, Hawaii and featured hundreds of cars all vying for various awards for best in show. The show also featured the crowning of a new Miss Hot Import Night's Hawaii which took place after Freya Fox's one hour Insomniac Events worthy future bass set. 
Additionally, this tour stop was part of promotional efforts to promote Freya Fox performing at LA3C at the Hot Import Nighs stage on Dec 10, 2022. Fox who is former pro gamer turned EDM artist has collaborated with the likes of Joel Kim Booster (2022 at Life is Beautiful), cosplayer Alodia Gosiengfiao (2018 with PUBG Partners), Gina Darling, Edifier (Model at CES 2020), Cox Communications (2019), and many other notable partners in Gaming. Fox even hosted at PAX West 2018 to promote Square Enix's Kingdom Hearts III.
But her love of music always shined through her Facebook Gaming live streams and current Tiktok streams where Fox built a sizeable following who love her for her singing and live music performance alongside her gaming streams.
At her set during Hot Impot Nights, Freya Fox combined a mixture of future bass, complextro, electro house, and her own original single "I'm Too Free" played a set that will forever be remembered. Fox even sang her remix of "Shelter" by Porter Robinson and Madeon live which she typically only does at her live EDM sets (think Porter Robinson's Nurture Live).
Fox who is primarily a live electronic artist and vocalist rocked the auto show with her signature setup of the Akai APC 40 and Pioneer DJM 900 NXS2. She is one of the few female EDM DJs / Artists who primarily performs her DJ sets utilizing Ableton and Rekordbox together. Her Ableton Live DJ sets and Live EDM sets are a true experience and example of h
Fox hails from San Diego, CA but currently resides in the EDM capital of the world Las Vegas which has a special connection with the Hawaiian islands. Las Vegas is known as the 9th Island due to its large population of Hawaiians so it made perfect sense to have a Las Vegas based DJ headline the show. 
After the show Fox took photos with fans and stunning videos with model/ ring card girl Won Cha. Won Cha who hails from Minnesota can be seen in a stunning red dress posing with Freya on their reels and Tiktok.
We're excited to hear more original future bass and anime EDM inspired songs from the talented Freya Fox soon. We also hope to see Freya headline more Hot Import Nights events in 2023.
© 2022, AMMPRO. All rights reserved.