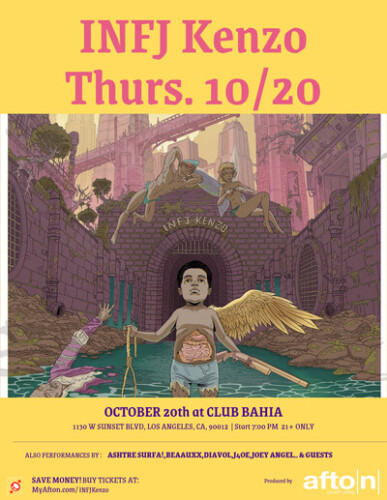 Jamal Hansen, professionally known as INFJ Kenzo, hails from Santa Monica, California. After performing CPR on a 16 year-old-girl, who was overdosing on Fentanyl, INFJ KENZO understood what mattered to him in life. In Jan 2022, he emerged with a unique– frightening & unique noise of different hip-hop via his melodic rap. After debuting his first song, Overblown, INFJ KENZO started working with The Critically Acclaimed Death Row Records E.P. Darren Vegas. Their productions have made him 3 # 1 Billboard Hot 100 Albums with the artists like Snoop Dogg, 2Pac, and Bone Thugs-N-Harmony. After INFJ KENZO tape-recorded Life I'm Down, Somber, and Great Gatsby, he was astonished by just how Darren's ideas and motivation led to the transformative making of songs. Together, they teamed up and created THE WAGE OF BETTER ANGELS: A Treatise To The Truth planned for a later release. 
"Life is supposed to be about chasing our dreams and enjoying each day. For me, forgiving myself for my past sins is hard most of the time. But we all must encounter that and continue to move forward into the light. I'm so grateful to everyone who walks beside me on this journey. Because I need you, and you need me. Once upon a time, I forgot that God has always stuck with me, even though I haven't always stuck with Him. I will do everything in my power to give you the best performance that I can give. All I will ask from you is to suspend your disbelief & believe in magic, even if it's just for a moment. Thank you for all the love that you bring." – INFJ Kenzo
Kenzo will perform at Club Bahia on Thursday, October 20, at 7 pm. INFJ Kenzo prides himself in bringing his audience fresh and enticing content, and this is no exception. The performance will serve as an exclusive pre-album release listening party. Aside from INFJ Kenzo, some other burgeoning artists will be on the stage, including Ashtre Surfa!, Beaauxx, and more.
INFJ Kenzo Spotify:
https://open.spotify.com/artist/1Vdmn5uUaKb6YbyFAYSZPX
Buy your tickets now via myafton:
https://myafton.com//INFJKenzo
Pre-save album (The Wage Of Better Angels: A Treatise To The Truth.):
https://www.infjkenzo.com/shop
Follow INFJ Kenzo via his Instagram
https://www.instagram.com/infj_kenzo/
© 2022, StanleyGatero. All rights reserved.