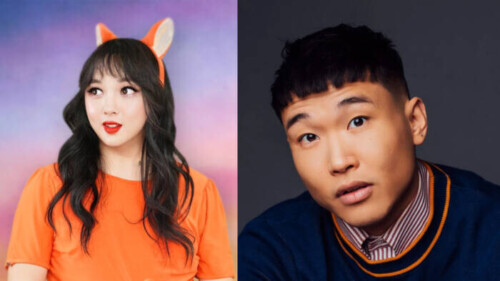 While the musical acts for Life Is Beautiful were confirmed months ago, the festival is no strangers to surprise performances and celebrity sitings. Held in Las Vegas, NV the festival boast over 150,000 attendees over a three day period. 
Recently, keen netizens found a database aggregator known as Songkick which listed a surprise performance from top female EDM artist and actress Freya Fox at Life Is Beautiful 2022. The database which requires confirmation from any event which features two or more performers on the same bill, has the event listed as of this week.
Janelle "Freya Fox" Kao is one of the few touring female EDM DJs and is the star of Netflix's "Light the Night" and "Jamtara: Sabka Number Ayega".
According to the leaked Songkick listing Fox is scheduled to perform Saturday at 8:30 PM on the Kicker Stage's Comedy Lineup at Life Is Beautiful alongside Fire Island (Hulu) star Joel Kim Booster. However, it is unclear what her performance will be as it's slated for a comedy show and she is likely to perform her live EDM set. It also appears that this is he first time Fox and Joel Kim Booster will be working together.
Freya Fox's SoundCloud which has recently been updated with unreleased songs and remixes, gives a hint to what she could be performing. Her style is a mix between Future Bass, Trance, and Electronic Pop. Additionally, she's teased content on her official Instagram @freyafoxmusic. Her recent TikTok Live Takeover on September 9th, 2022 included her SoundCloud charting vocal rendition of Porter Robinson and Madeon's "Shelter" and two new singles labeled as work in progress. Fox's "Shelter" was streamed over 100,000 times in a single week on her Soundcloud.
Fox who is no stranger to the lime light – as  an actress, gaming streamer, host (Pax West 2018 with Bandai Namco and Square Emox, E3 2019, etc.) and former eSports competitor, has recently ventured back into music production and live performance after a five year hiatus. In a recent TikTok live, Fox told viewers that she was pivoting to focus more on her music career as it was her true passion.
As a musician, Fox has had notable achievements including performing at Chicago Symphony Hall and winning the Festival of Gold with her high school band, and charting on KKBox's Hot Mandarin charts in 2016 peaking at number 50 with her rendition of Eric Chou's "How Have You Been (你好不好)".
According to Freya Fox's Official Twitter (@Freyafoxtv), she has always been a musician since she was young, and her current name plate says Life is Beautiful but there is no alluding to what may come of it.
At the festival, festival goers will have an opportunity to watch various stand-up comedy performances, musical acts, and live tapings for several comedy podcasts. Confirmed comedy shows to appear during the festival include "Going Deep with Chad and JT," hosted by Chad Kroeger and JT Parr; "Celebrity Book Club with Steven & Lily" with Steven Phillips-Horst and Lily Marotta; and "Giggly Squad" with Hannah Berner and Paige DeSorbo. 
Life is Beautiful, will take place Sept 16 to 18 in downtown Las Vegas and this year's festival will be the first since Rolling Stone acquired a majority stake in it back in March. 
Fox currently resides in Las Vegas and spends her time between her Vegas home and Taipei, Taiwan – so it's no wonder she was picked last minute to perform.
To find out more about this upcoming female EDM DJ Freya Fox visit her at www.freyafox.gg
© 2022, AMMPRO. All rights reserved.