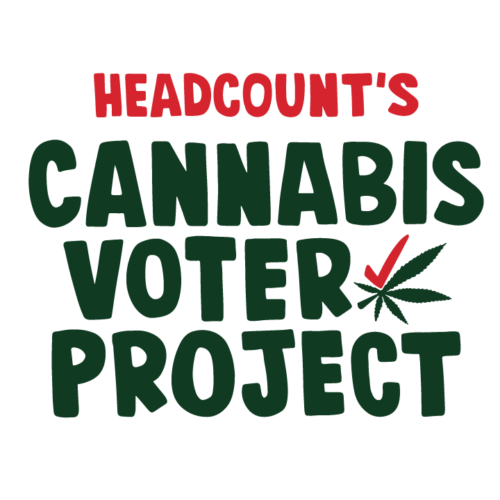 Today, HeadCount's Cannabis Voter Project, which mobilizes voters who want to reform cannabis laws, has released a star-studded video encouraging "cannabis voters" to reach out to elected officials regarding federal cannabis legalization. An impressive lineup of celebrities and influencers including prominent rapper Pusha T, super-producer Hit-Boy, former NBA star turned cannabis entrepreneur Al Harrington, and comedian HaHa Davis, are featured in the call-to-action video. Cannabis Voter Project was launched in 2018 by the non-profit, non-partisan voter registration organization HeadCount. Check out the video HERE.

Directed by activist Marvin Bing, the short video sees some of your favorite celebrities urging voters to contact their senators at CannabisInCommon.org, an initiative of the Cannabis Voter Project. Additionally, the celebs call on citizens to take action so that cannabis is not only legalized, but so cannabis convictions are expunged and communities hurt by the War on Drugs can begin to benefit from the "billions" to be made through legal cannabis sales. The video debuts just days after Senate majority leader Charles Schumer, Sen. Cory Booker, and Sen. Ron Wyden introduced their long-awaited Cannabis Administration and Opportunity Act, which marks the first time that the Senate has seriously considered legalizing cannabis at the federal level.

Other stars appearing in the video include:

Recording artists Styles P and Benny The Butcher

Rapper and reality TV star, JoJo Simmons

Host of Amazon Music's Rotation livestream, Wayno

Global fashion icon and designer, Ugo Mozie

The Smokers Club co-founders, Smoke DZA and Shiest Bubz

Cannabis social media Influencer, Jessica Golich

Gamer and artist, BunnyMightGameU

"Lifestyle and culture plays such a big role in cannabis. It's refreshing to support and join so many friends from our community to add voice to such an urgent and critical effort," said The Smokers Club Co-Founder Shiest Bubz, who's featured in the Cannabis Voter Project video. "We are not giving up and won't sit idle and wait for federal legalization to just happen versus creating the demand the people deserve as it relates to this issue impacting so many."

HeadCount, one of the nation's largest voter registration organizations, launched the Cannabis Voter Project four years ago as a way to engage and turn out voters through cannabis reform — an issue that is supported across the political spectrum and is a highly motivating cause to many Americans who are otherwise disenchanted with government.

"These days, it often feels like politics is defined by our disagreements," said Cannabis Voter Project director Sam D'Arcangelo, "But more than two thirds of Americans believe cannabis should be legalized. We all need to make our voices heard so elected officials know this issue is important to voters."

Ahead of the midterm election, HeadCount's Cannabis Voter Project will engage in their "Roll Up To The Polls" campaign, which will register voters and educate them about how voting can impact cannabis policy.

ABOUT CANNABIS VOTER PROJECT:

Cannabis Voter Project informs, registers and turns out voters who want to change cannabis policy. Launched by civic engagement organization HeadCount.org in 2018, the Cannabis Voter Project believes it's important for the cannabis community to be an active and informed voting bloc. For more information visit cannabisvoter.info

ABOUT HEADCOUNT:

HeadCount is a non-partisan non-profit organization that harnesses the power of music, culture and digital media to register voters and inspire participation in democracy. Since 2004, we've registered over one million voters through our work with musicians like Ariana Grande, Beyoncé, Dead & Co, Harry Styles and Megan Thee Stallion; events including Lollapalooza, Bonnaroo, Pride Festivals, and RuPaul's DragCon; plus partnerships with brands like Spotify, Ben & Jerry's, and GrubHub. Our award-winning online campaigns have been seen over a billion times, while our 50,000 volunteers can be seen at more than 1,000 live events each year. We reach young people where they already are – at concerts and online – to inform and empower.
© 2022, Seth "Digital Crates" Barmash. All rights reserved.