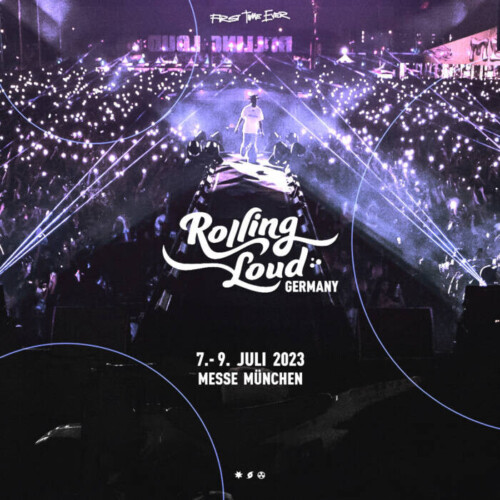 Keeping up their hot streak of international expansion, Rolling Loud announces the first ever Rolling Loud Germany 2023. The world's largest rap festival celebrates its premiere at the Messe München, in the heart of the Bavarian capital and third-largest city in Germany. With a line-up of leading artists to be announced shortly, Rolling Loud makes its highly anticipated German debut from July 7th to 9th, 2023. Pre-sale tickets go on sale this Friday, December 16th at 12:00pm CET/6:00am EST at https://germany.rollingloud.com/.
Growing from a humble one-day celebration in Miami, Rolling Loud has become a massive global attraction, with numerous events spanning multiple continents. The international success of Rolling Loud is a testament to hip-hop's immense global appeal. The announcement of Rolling Loud Germany is the latest in a series of three European Rolling Loud festivals, including the first Rolling Loud Rotterdam from June 30th-July 1st and the second edition of Rolling Loud Portugal from July 5th-7th 2023 in Portimão.
Rolling Loud is expanding across the globe while presenting multiple festivals across the US. Led by its founders Matt Zingler and Tariq Cherif, Rolling Loud has grown into the most powerful hip-hop festival in music history. Stay tuned for many more announcements.
Buy pre-sale tickets for Rolling Loud Germany 2023 (Live on Friday, December 16th at 12:00pm CET/6:00am EST): https://germany.rollingloud.com/
Stay tuned for more info, and check out Rolling Loud on Instagram for all the latest updates.
© 2022, Seth "Digital Crates" Barmash. All rights reserved.