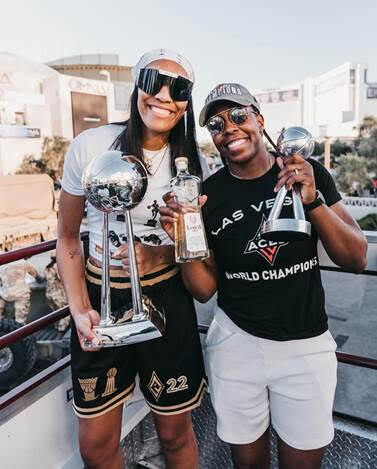 credit: Klutch Sports Group
In celebration of an iconic moment, the Las Vegas Aces celebrate winning their first major pro sports title for Las Vegas with Lobos 1707 Tequila at their victory parade yesterday. Lobos 1707 has been a go-to brand favorite across championship teams this past year.
Earlier this summer, the Golden State Warriors Forward, Draymond Green, and Juan Toscano-Anderson, were spotted drinking Lobos Tequila celebrating their championship win at the Warriors parade.  
Just last year, after beating France to win gold at the Tokyo Olympics, Draymond Green, Kevin Durant, and the rest of Team USA Men's Basketball celebrated all weekend and shouted out Lebron James all over social media for the post-gold tequila celebration.  
As you may already know, Lobos 1707 is an independent spirits producer that blends heritage and innovation. Inspired by his ancestor of the same name, Founder and Chief Creative Officer Diego Osorio launched Lobos 1707 in 2020 with CEO and brand-builder Dia Simms and legendary athlete and cultural icon LeBron James. 
© 2022, Seth "Digital Crates" Barmash. All rights reserved.