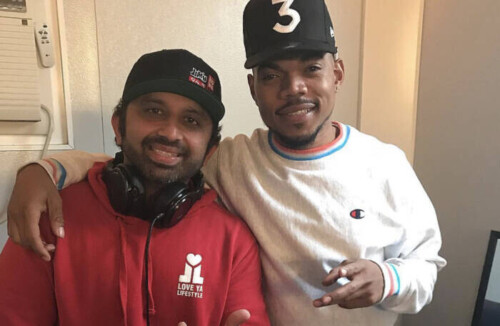 With inspiration from respected DJs in radio like Julio G and studying Jimmy Fallon's interview skills, Pup Dawg expresses how he found his unique personality and voice in radio. The iHeart Radio and Jam'n' 94.5 DJ can be heard on the radio doing interviews with some of your favorite upcoming artists and mainstream artists. Pup's interviewed artists like Bas, Khalid, Miguel, and many more for PartyWithPup Podcast on iHeart.
For Pup Dawg, he enjoys taking on interviews as a conversation rather than a structured interview because it flows easily and is more meaningful. He also expressed that before interviews, he likes to build a connection with artists that way they are comfortable with each other.
Outside of traditional radio, Pup also hosts a show called "Dj Pup Dawgs Top 30 Countdown with Kalisha" which is a syndicated show that can be heard on over 20 radio stations.
The Pakistan native shared that he found his voice and skills from studying some of who he considers the greats in radio and interviewing. Pup Dawg grew up listening to Los Angeles' K-Day Julio G enjoyed how natural the radio personality was with conversing. He also mentioned how he picked up Jimmy Fallon's easy-going interviewing skills as well. But the overall inspiration is the love for radio. 
"I think being able to just do it for the love is just the biggest inspiration," he said. "I never say, 'I'm going to work,' I always say, 'I'm going to the studio' because I don't consider this work. I play music. I get to talk to people. It's a lot. It's 22 hours a day on a regular basis but it's still not work. I'm super blessed."
Make sure to tune in and catch Pup Dawg on the airwaves and follow him on social media @djpupdawg.
© 2022, alanna. All rights reserved.