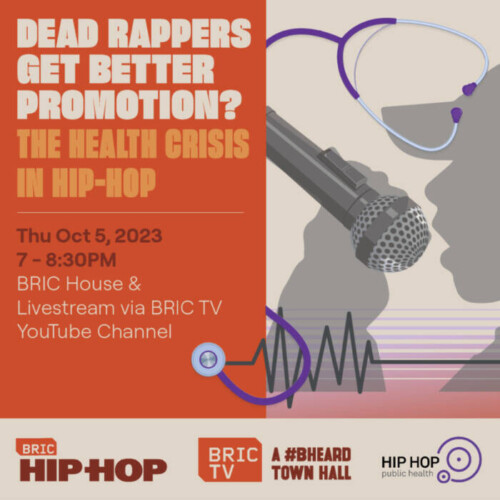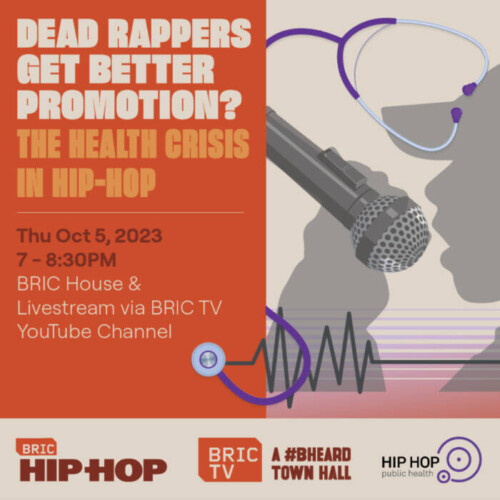 On Thursday, October 5, BRIC TV in partnership with Hip Hop Public Health, presents a #BHeard Town Hall as part of #BHeard's ongoing series. The town hall will delve into a critical discussion on the overall health and mental wellness of rap artists by examining how enhanced health outcomes can serve as the blueprint for broader societal improvements across the industry. Panelists will explore the various causes behind the truncated lifespan of many rappers, to which their health and well-being are contributing factors. This includes taking a deeper look at their lifestyles, patterns, and environments. Some questions and topics they will discuss include:
Can the health crisis in hip hop be contextualized as institutional racism?

How does the crisis also result in negative health outcomes for the overall hip hop community and beyond, including everyday young men and women?

What obligation do the institutions that extract the creativity and labor of Black bodies have to replenish and ensure they are healthy and properly maintained?
This town hall will serve as the first of two in the ongoing series. The 2024 discussion will explore Women & the Business of Hip Hop (May). Overall, attendees will have a sneak preview of BRIC Hip Hop – the new, permanent home for hip hop education, expression, and its evolution. The fall programming will encompass multiple aspects of hip hop culture including visual art, fashion, film, advocacy, and more. BRIC's Hip Hop 50 curation underscores their commitment to showcasing and institutionalizing hip hop culture and preserving community connection. They plan to stroll through the genre's 50 years with an eye toward the margins and the folks who uphold the culture from behind-the-scenes. More details to come regarding BRIC House's fall hip hop events and programming.
Opening remarks will be presented by Lt. Governor Antonio Delgado. The roundtable style panel discussion will be moderated by Nicole Duncan Smith and feature hip hop notables including the Founder of Hip Hop Public Health Dr. Olajide Williams; Rapper & Entrepreneur, Styles P; District 36 NYC Council Member, Chi Ossé; Senior Editor, Men's Health, Keith Nelson Jr.; DJ & Radio Personality, DJ Enuff; and Entertainment Attorney, Bob Celestin. Pre-event festivities presented by NYC Health + Hospitals will include an outdoor Mobile Barbershop, free health screenings, specialized activations and pop ups from Juice for Life, Ashe Arthur Institute, Venture House, KAVI, and On Point.
The event is free to the public as part of BRIC's Hip Hop 50 rollout. Attendees can RSVP here and find more details at bricartsmedia.org
Thursday, October 5 | 5:30 – 9 pm
Pre-event Activations @ 5:30 pm | Panel @ 7 pm
 BRIC House | 647 Fulton Street (@ Rockwell Place) | Brooklyn, NY 11217
Live televised broadcast on BRIC TV
Live stream on YouTube.com/BRIC TV
 On IG/X: Tag @BricTV @BRICbrooklyn
© 2023, Seth "Digital Crates" Barmash. All rights reserved.