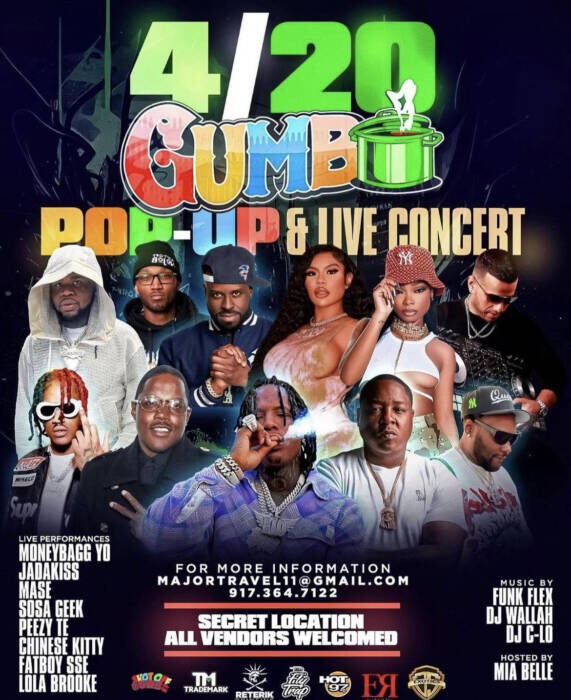 Gumbo Brands hosts a pop-up & live concert in New Jersey from 6pm to 1am featuring performances by Moneybagg Yo, Jadakiss, Mase, Lola Brooke, Sosa Geek, Peezy Te, Chinese Kitty, and Fatboy SSE. This black-owned cannabis company established is 2018 is owned by Karim Butler and wife, Alexis Major.
GUMBO has reached 2.3 million in podcast videos and streams through media features on major podcasts such as First Smoke of the Day, Million Dollaz Worth of Game, HiphopDX, All Hip Hop, and more. Major's editorial work has been featured in Forbes, Yahoo, Black Enterprise, BusinessWire, Rolling Out, and All Hip Hop, to name a few. Through brand and celebrity collaborations, Gumbo has launched several events and activations, such as the Cookies Store launch in LA and Bangkok, Thanksgiving with Fivio Foreign, and Rolling Loud New York a two-day pop-up that resulted in a grossed $250,000 in merchandise sales and included informative panel discussions about marijuana reform, the cannabis business, and hip-hop, featuring New York City Public Advocate Jumaane Williams, Charise Williams, the chief of staff of the Illinois Criminal Justice Information Authority, Rashaad Lambert, ESVP and Director, Culture & Community, Forbes, and founder, For(bes) The Culture, among others.
Black ownership accounts for only 4.3 percent of all cannabis businesses.This entrepreneurial power-couple formed GUMBO Brands with a focus on making a difference, building wealth, and sharing knowledge within the Black and Brown communities via their give-back initiatives and alliances within the sports and entertainment industries. In just a few short years, GUMBO has expanded into the media world with its Drink Champs brand and attracted partnerships with #1 radio station Hot97, along with top artists such as Kodak Black, Moneybagg Yo, Meek Mill, Big Meech, NORE, Take Off of the Migos, Dave East, Fabolous, and others.
© 2023, alanna. All rights reserved.