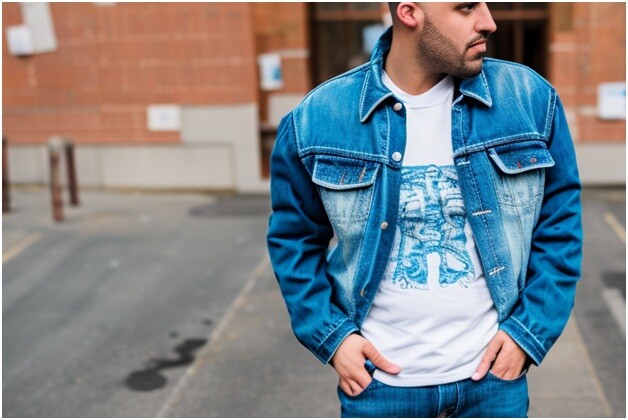 Denim jackets are a classic wardrobe staple that never goes out of style. They are versatile, easy to wear, and can be dressed up or down. But as we move towards the 2023 spring-summer season, it's all about the oversized denim jacket trend.
But the question is, should your denim jacket be oversized? The answer is yes! Oversized denim jackets have been spotted on runways and street-style looks, making it a must-have trend for the upcoming season. There's no better place to learn about this development than right here:
Comfortable and Versatile
The oversized denim jacket is comfortable and versatile, making it perfect for any occasion. You can pair it with a dress, skirt, jeans, or shorts for a stylish and effortless look. It's also suitable for layering over sweaters or hoodies during colder weather.
Color and Style Options
Regarding color and style options, black, white, dark blue, ripped, and vintage are some of the latest trends in oversized denim jackets for the 2023 spring-summer. These colors and styles are a great way to make a statement and express your style.
How to Style an Oversized Denim Jacket
To style an oversized denim jacket, you can wear it with a crop top and high-waisted jeans or shorts for a chic and trendy look. You can also layer it over a dress for a more feminine touch. For a casual look, pair it with leggings or joggers and sneakers.
Styling Tips for Oversized Jean Jackets
If you're wondering how to wear an oversized denim jacket, you've come to the right place! The oversized clothes trend has been around for a long and isn't going away anytime soon. An oversized jean jacket is a great way to add some edge to your attire while being comfortable at the same time.
How to wear that baggy jean jacket:
Pair it with skinny jeans or leggings
An oversized jean jacket looks great paired with fitted bottoms like skinny jeans or leggings. This helps balance the jacket's volume and creates a more flattering silhouette.
Layer it over a dress
Layer your oversized jean jacket over a dress for a more feminine look. This may be worn up or down to suit the occasion, adding a laid-back vibe to an otherwise formal look.
Belt it
Try belting your oversized jean jacket at the waist to create more shape and definition. This helps cinch in the jacket and creates a more flattering silhouette.
Play with different textures
An oversized jean jacket looks excellent paired with different textures like leather or suede. This adds visual interest to your attire and makes it more fun.
Now, to answer whether it's okay to wear a baggy denim jacket – absolutely! In fact, oversized clothing is all the rage right now. Just make sure to balance out the volume of the coat with fitted bottoms, and you'll look stylish and chic.
Finishing Touches to Your Oversized Jean Jacket Look
Oversized jean jackets have been the latest fashion trend and are here for the 2023 Spring-Summer season. They make a statement and add a touch of edginess to any attire. However, you must focus on the finishing communications to complete your look. This section will cover two critical aspects – accessories and care & maintenance- to help elevate your oversized jean jacket look.
Accessories
Accessories can take your attire from basic to stylish in seconds. A simple garment can be transformed with a statement piece, such as a chunky necklace or big earrings. Wrapping a colorful scarf or bandana around your neck or wrist is another easy way to draw attention to your outfit. The jacket may be cinched in at the waist with a belt. For shoes, ankle boots or sneakers are perfect to complete the look. Regarding oversized jean jackets, many supplements can complement your look.
Care & Maintenance
To keep your oversized jean jacket looking its best, you need to take proper care of it. The following tips will help you maintain your jacket:
– Follow the care instructions on the label of your jacket. This will ensure you are washing it correctly.
– Avoid over-washing your jacket as this can cause it to fade or lose its shape.
– If you need to wash your jacket, turn it inside out and wash it in cold water to preserve the color.
– Hang your jacket to dry instead of using a dryer. This will prevent shrinkage and damage to the fabric.
– If you need to iron your jacket, use a low heat setting and place a cloth over it to avoid damaging the fabric.
By paying attention to these finishing touches, you can elevate your oversized jean jacket look and keep it looking its best for future seasons.
Where to Find the Best Oversized Jean Jackets
If you want to stay on trend with oversized jean jackets for the 2023 spring-summer season, you'll want to know where to find the best options. Thankfully, there are a plethora of websites that sell all sorts of different brands and sizes.
One excellent option to consider is Jeans4you.shop. This online store specializes in denim clothing and has a variety of oversized jean jackets to choose from. Their most popular styles include distressed denim jackets, acid wash jackets, and cropped denim jackets.
Paying attention to sizing is essential when shopping for an oversized jean jacket. These jackets are meant to be loose-fitting, but you don't want them to be so large that they overwhelm your frame. Jeans4you.shop provides detailed sizing information for each jacket, so you can ensure you're getting the right fit.
In addition to providing great options for oversized jean jackets, Jeans4you.shop also offers competitive pricing. They often have sales and promotions, so check back regularly for the best deals.
Get ready to rock the oversized jean jacket trend this season and show off your unique style! You may get a wide variety of denim jackets this season, from the traditional black or white to the more experimental dark blue, torn, or larger styles. You can also feel confident that wearing an oversized denim jacket is perfectly acceptable if you style it with the right accessories and care for it properly. When shopping for the best-oversized jean jackets, online retailers are your best bet for finding the perfect fit for you.
© 2023, StanleyGatero. All rights reserved.