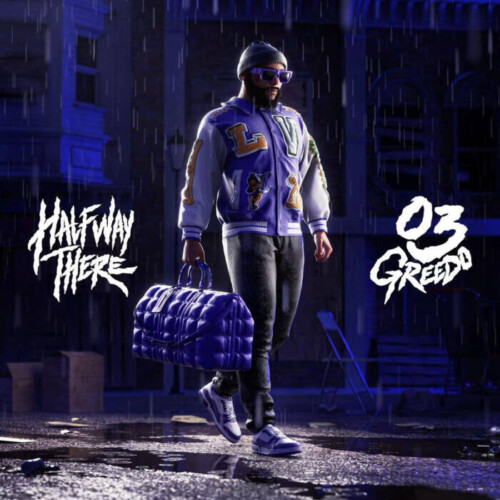 Ready to reclaim his coveted spot in the rap game, Los Angeles legend 03 Greedo shares Halfway There, his first project of all-newly recorded music since 2018.
Recorded in the months since his January release at Houston's Sugar Hill Studios, Halfway There benefits from Greedy's endless font of melodies and peerless ability to write fully-realized songs in a matter of minutes. Halfway There arrives alongside a documentary that takes a revealing look at what Greedy's been up to since his release from prison in January.
Spanning 33 tracks, Halfway There provides an embarrassment of riches, a gift from a rapper who knows his loyal fanbase has been waiting a long time.  Greedy's songwriting retains all of the hallmarks that made him one of the West Coast's most beloved artists:  effortless taffy-like melodies, slick turns-of-phrase that become earworm hooks, expressively unfiltered lyrics, and the ability to flat-out spit when the situation calls.  The tape is home to recent single "Bacc Like I Never Left," which 03 debuted at Billboard's The Stage @ SXSW during his first solo live performance in nearly five years.
The follow-up to the Pitchfork-acclaimed Free 03 mixtape, Halfway There runs the gamut of styles, touching on Greedy's every mood and his omnivorous musical appetite. Halfway There's origins in the Lone Star State have a major impact on the sound; Greedy has always combined his West Coast origins with his love of Southern trap, and that influence is felt through the contributions by trap architects like Lex Luger and Purps of 808 Mafia, and appearances by Southern rappers like Maxo Kream and Peewee Longway.
Still, they can take Greedy out of California, but they can't take the California out of him–many of the tape's highlights, including the breezy "Coi Leray Diamonds" ft. Ty Dolla $ign, party anthem "1 Drink 2 Many," and the creeping and paranoid "Industry" (prod. by L.A.'s Cypress Moreno), reflect the California styles of his classic period. The latter provides a revealing glimpse at how the L.A. legend has processed the vast changes in the rap game since he went away: "Don't post that picture wit me til I leave, don't put me on your live/If my bro PNB ain't go through that, my dawg still be alive/I lost him four months 'fore I got released, couldn't do a thing but cry/Cause after Bankroll, Drakeo, Dolph, and Nip, feel like the next to die."
With additional guest appearances from Babyface Ray, Rich The Kid, Skilla Baby, and more, plus production from the likes of Harry Fraud, Sledgren, Yung Lan, and 12Hunna, Halfway There is available on all platforms via Alamo Records.
With Halfway There in the books and much more music on the way, 03 Greedo is making up for lost time. Forget a Purple Summer…it's gonna be Purple all year long.
Stream Halfway There: http://03greedo.lnk.to/halfwaythere
© 2023, Seth "Digital Crates" Barmash. All rights reserved.