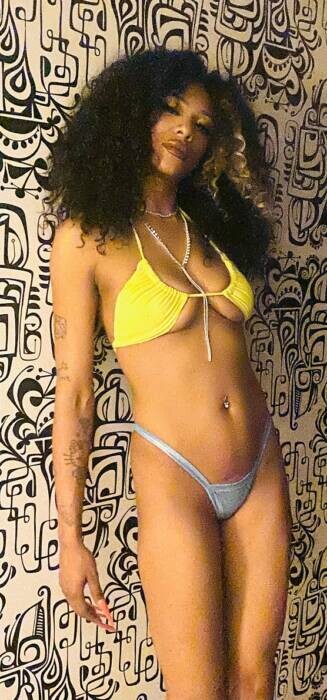 VFG is short for Very Freaky Girl which is just another extension of EB Marie. As she embodies womanhood and sexuality, EB Marie takes you on a fantasy ride as she dances and sexualizes her rap skills with some of Minnesota's most known. EB Marie had an illusive idea to add some women to the video but not just any women, she hand -picked artists and models that embrace being a freak in their very own way! Fair warning EB Marie pushes the limit, dressed in nothing but a G-String and Bikini top, EB Marie she delivers major sex appeal with a shower scene involving MN HMIC model Skÿê McGregor and EB Marie's new submissive Rikki Furiosa. Followed with bedroom scenes involving MN Makeup artist Jamie Jayy and MN Rapper Hollywood. These ladies will make you wonder what really went down in that hotel room? As they take sexy to a whole other level this song and video will leave you hot and wanting more. Very Freaky Girl is EB Marie's third single following Intro and Star which goes to show that she is not a one-hit wonder but is here to stay and here to push the limits. EB Marie continues to show and prove that she belongs in the music industry and takes a risque approach to deliver her sexy femininity to the fans one visual at a time. With female hip hop at its hottest point EB Marie is definitely going to eat her piece of the pie and with help from her label Real Deal entertainment powering her vessel there is absolutely nothing that will stop her.
You can follow each model on Instagram: Skÿê McGregor @highkyee , Jamie Jayy @dolledbyjamiejayllc , Rikki Furiosa @rikkifuriosatheartist & Hollywood @justhollywood101
Follow @iameb_marie
Very Freak Girl (Official Video) – EB Marie
© 2023, StanleyGatero. All rights reserved.