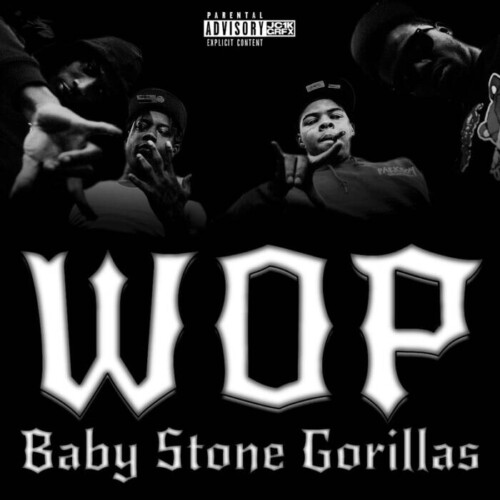 Baby Stone Gorillas are heating up the L.A. scene with their searing street raps. Plotting the next step in their conquest of the rap game, BSG announces The Military, their next mixtape. Spanning 23 tracks, the next mixtape refines the group's hard-hitting West Coast sound, its glossy textures, funk-forward rhythms, and boosted bass adding emphasis to quartet's raw lyricism. The only voices you'll hear on the album belong to the Gorillas themselves–Top5ivee, P4K, 5Much, and EKillaOffDaBlocck–who shoulder the full trackload without outside features. With contributions from West Coast sound architect like RonRonTheProducer, Juneonnabeat, and more, The Military releases on February 10th via Park Money Records / EMPIRE.
Along with the announcement of the mixtape, the four-man squad shares "WOP," an effortlessly funky new single from the project. A slinky slapper produced by PRODUCER, "WOP" finds the four-man wrecking crew flaunting their signature styles over booming 808s and spritely synth melodies. 5Much delivers the infectious chorus with slurred syllables, EKillaOffDaBlocck takes the first verse with his high-energy flow, and P4K and Top5ivee tag team the final verse with brutally blasé bars. In the video, the Gorillas post up under palm trees in their L.A. neighborhood Baldwin Village, better known as "The Jungle," before they head to a neon-lit soundstage and flash their hard-earned bands.
With The Military on the way and much further to rise, the Baby Stone Gorillas are on a mission to prove they're the realest in L.A. Stay tuned for much more.
© 2023, Seth "Digital Crates" Barmash. All rights reserved.