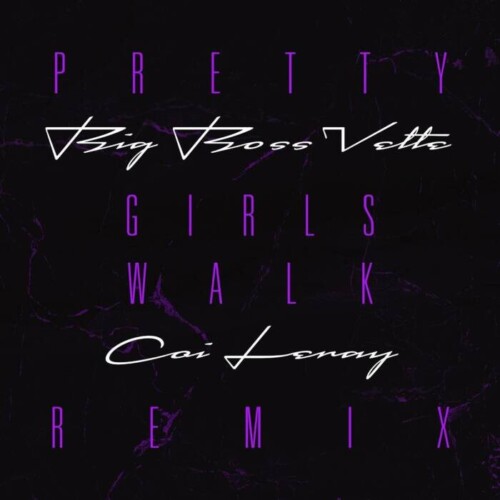 St. Louis's hottest new voice Big Boss Vette joins forces with multiplatinum superstar Coi Leray for the Official Remix of her breakout single "Pretty Girls Walk" available today via Beatstaz/Amigo Records/Republic Records.
The two powerhouses teamed up for this compelling remix, as Coi lit up the beat with her fierce, focused, and fiery flow in between Big Boss Vette's commanding and catchy chorus. They infuse "Pretty Girls Walk" with a rush of uncontainable and playful energy. Last month, Big Boss Vette sent TikTok into a frenzy teasing just a snippet of the remix, accruing over 75K "likes" and garnering attention from popular blog sites adding to the anticipation of the release.
"Pretty Girls Walk" has emerged as a phenomenon. The contagious track exploded on Instagram Reels with north of 220K Reel "creates," including videos from icons such as Madonna, Kate Beckinsale, Jennifer Lopez, Paris Hilton and Nicole Scherzinger. On TikTok, the song has inspired over 400K "creates," eclipsing 1 billion views. Thus far, "Pretty Girls Walk" has gained over 11.2 million Spotify streams and 1.6 million YouTube views on the music video, which released last October. The "Pretty Girls Walk" video remains in steady rotation on mtvU, CMC, and more. At Rhythm Radio, it popped off as "9th most added" last week.
Big Boss Vette recently hit the road for Nick Cannon's "Future Superstar Tour." Alongside 24kGoldn, Symba, Justina Valentine, Hitman Holla, and more, she will perform across 24 cities in the U.S. and Canada, including making her Rolling Loud California debut this weekend in Inglewood. See the full list of tour dates below. 
Plus, the buzzing hip-hop maverick is currently hosting a "Pretty Girls Walk" contest for a chance to win a pair of VIP tickets to Rolling Loud California. To enter, participants must create a 1 minute or less "Pretty Girls Walk" video, post it to TikTok, Instagram Reels, or YouTube Shorts, and complete the entry form. 
Top digital platforms have been paying homage to the rising star and making sure she will be a household name. YouTube named Big Boss Vette its latest Trending "Artist on the Rise" and Tik Tok included Big Boss Vette in their #WomenInHipHop campaign including a billboard alongside artists Latto, Coi Leray, Monaleo and Exmiranda in Toronto's legendary Scotiabank Arena. Not to mention, "Pretty Girls Walk" notably appeared on South Park's 26th season premiere, furthering the momentum on the single. 
Last year, Big Boss Vette shined in the 2022 BET Hip Hop Awards Cypher and starred in the 2022 Hip-Hop Awards edition of BET's Rate the Bars. In addition to "Pretty Girls Walk", her bossed-up single "My Sista" soundtracked a key moment of Hulu's The D'Amelio Show. Building her audience, Big Boss Vette has attracted north of 1 million followers on TikTok and has crossed 2 million monthly listeners on Spotify.
Big Boss Vette continues turning heads and kick-starting conversation with her relatable and refreshing talent, solidifying her place as one of the top rising stars of 2023.
© 2023, Seth "Digital Crates" Barmash. All rights reserved.