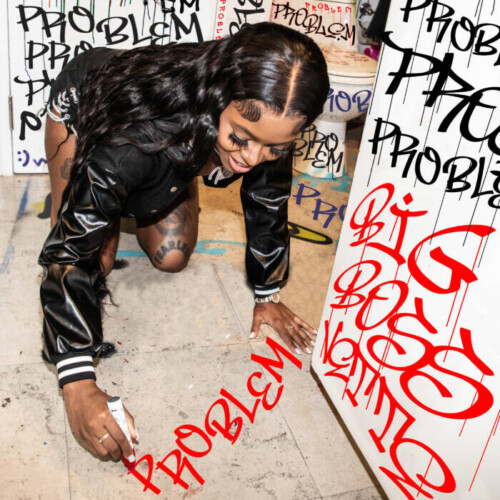 St. Louis's hottest new voice Big Boss Vette unleashes a new single and music video entitled "Problem" available today via Beatstaz/Amigo Records/Republic Records. 
As the track's thick bass thuds and percussive stomp snaps, she tears through the soundscape with a fearless attitude and slick rhymes. Her tightly wound wordplay unspools with an undeniable chant, "Bitch, I'm a problem," as she warns, "Get the fuck up out my face with all that soft shit!"  In the accompanying visual, she turns up in the studio. She raps to the camera as frenetic cuts move in sync with the song's raw rhythm. 
It arrives on the heels of her hard-hitting "Pretty Girls Walk (Remix)" [feat. Coi Leray]. HotNewHipHop proclaimed, "it's a creative and head-bobbing fusion of more modern percussion styles with a classic bassline that harkens back to the old days." Following her own set, Big Boss Vette and Coi Leray brought their undeniable energy to the stage as they performed the song together at Rolling Loud California. She only continues to make waves. She recently guested on Apple Music's The Plug Radio in addition to showing out "Bar for Bar" with VH1 in honor of Women's History Month. Plus, she catapulted to #45 on the Billboard Emerging Artists chart.
 
"Pretty Girls Walk" has emerged as a phenomenon. The contagious track exploded on Instagram Reels with north of 220K Reel "creates," including videos from icons such as Reba McEntire, Madonna, Kate Beckinsale, Jennifer Lopez, Paris Hilton and Nicole Scherzinger. On TikTok, the song has inspired over 650K "creates," eclipsing 2 billion views. Thus far, "Pretty Girls Walk" has gained over 14.4 million Spotify streams and 2.5 million YouTube views on the music video, which released last October. The "Pretty Girls Walk" video remains in steady rotation on mtvU, CMC, and more. At Rhythm Radio, it popped off as the greatest gainer.
 
Big Boss Vette recently hit the road for Nick Cannon's "Future Superstar Tour." Alongside Symba, Hitman Holla, and more, she will perform across 24 cities in the U.S. and Canada. The tour will touch down in Vette's hometown, St. Louis on March 25th. To celebrate, she's hosting a "Cousins Meet & Greet" for her fans at VibeSzn from 7-9pm. After recently making her debut at Rolling Loud California, she also announced a new festival date for this June at Sundown Solstice Music Festival in Alaska and Lollapalooza Festival this August. See the full list of tour dates below. 
 
Top digital platforms have been paying homage to the rising star and making sure she will be a household name. YouTube named Big Boss Vette its latest Trending "Artist on the Rise" and Tik Tok included Big Boss Vette in their #WomenInHipHop campaign including a billboard alongside artists Latto, Coi Leray, Monaleo and Exmiranda in Toronto's legendary Scotiabank Arena. Not to mention, "Pretty Girls Walk" notably appeared on South Park's 26th season premiere, furthering the momentum on the single. 
 
Last year, Big Boss Vette shined in the 2022 BET Hip Hop Awards Cypher and starred in the 2022 Hip-Hop Awards edition of BET's Rate the Bars. In addition to "Pretty Girls Walk", her bossed-up single "My Sista" soundtracked a key moment of Hulu's The D'Amelio Show. Building her audience, Big Boss Vette has attracted north of 1 million followers on TikTok and has crossed 2 million monthly listeners on Spotify.
 
Big Boss Vette continues turning heads and kick-starting conversation with her relatable and refreshing talent, solidifying her place as one of the top rising stars of 2023.
 
Tour Dates
3/25 St. Louis, MO The Pageant
3/29 Cleveland, OH House of Blues Cleveland
3/30 Chicago, IL House of Blues Chicago
3/31 Detroit, MI The Fillmore Detroit
4/2 Toronto, ON HISTORY
4/5 Philadelphia, PA The Fillmore Philadelphia
4/6 Westbury, NY NYCB Theatre
4/8 New York, NY Hammerstein Ballroom at Manhattan Center
6/16-18 Anchorage, AK Sundown Alaska Festival
8/3-6 Chicago, IL Lollapalooza Festival
© 2023, Seth "Digital Crates" Barmash. All rights reserved.