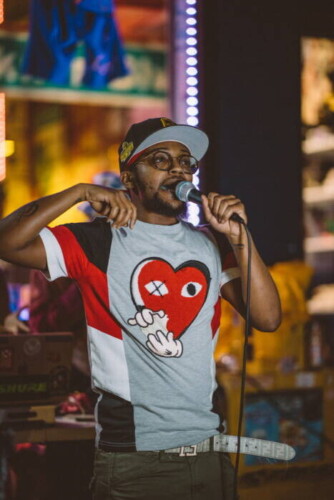 We made it into a new year yet again. Running into 2023, rapper Jiiggy is coming into the rap game bringing the vibes that we didn't know we needed. Hailing from Brooklyn, New York where everything is about being flashy, glitz, and glamorous you have to not only look the part but be prepared to protect yourself and your property at all times. Although he admits you have to be alert in the north, he also 100% enjoys and represents where he came from.
Growing up Jiiggy was the oldest out of 3 siblings, so he was always looking out for them and making sure they were OK while his parents worked. His father was also into music, and he mentions that he was already listening to tunes while pregnant in his mom's stomach, so the art is built into his DNA. Jiiggy's father, Devon Clarke aka Bobo Saw hails from Kingston Jamaica and also has a favorable catalog of music. In earlier years the New York MC was home-schooled during 2nd to the 8th grade, so naturally he has a skill to research information for himself. The well written artist is fine tuned which helps with his music writing, he always has something to say!
Jiiggy's musical influences includes YMCMB MEGA STAR Lil Wayne, whom he says inspires a lot of his artistry. He is also a fan of Kendrick Lamar and J Cole. With a signature flow of his own, adding a fresh spin on his bars with his New York accent and swag, the artist's latest single 'Big Pimpin' is earning all its flowers! The track also features Connie Diiamond and Deveye. Not only does the single highlight the popular city of Brooklyn in the video, but the song is also catchy, fresh, and the perfect body of work to highlight how exclusive of an artist he is!  Full of personality and energy, Jiiggy is a rapper you can put with any genre of artist, and he will shine through.
Being an independent artist takes time, dedication, patience, and a hunger of willingness to go after the goals that you want for yourself. Managing on his own and staying consistent, despite the demanding amount of income to fund a music career he remains focused. Going into the recording studio is his happy place and before stepping into the booth the artist likes to spend a few hours alone to mentally digress and focus on what he wants to create with his art.
We asked the artist to describe himself and this direct quote says it all!
"I am the world ha-ha. I am ya'll and ya'll are me. On my off time? I am usually always trying to work on a new freestyle or something, although if not that I enjoy reading for sure, I love to color and paint as well! I have been wanting to further my love for "bringing things to life", and that can be in many different ways! I also love to find new ways to make this money ha-ha! Some of my favorite movies are Jason's Lyric, Poetic Justice, Waist Deep, The Bad Seed & Eve's Bayou. Some of the foods I love are chicken, alfredo pasta, coconut shrimp, and pizza. I am definitely an extroverted introvert."
                                                                         Jiiggy
The secretive artist is one of mystery. Never willing to speak about his plans he prefers to simply put everything into motion and step on the gas this year! He plans to accomplish every goal written in his little black book and manifest the life he wants. His latest single 'Big Pimpin' hands down solidifies how hungry and talented he is as an artist. Investing full on into the project he enlisted New York MC's Connie and Deveye to also bless the track with their dope bars. Stream 'Big Pimpin' out now on all platforms, and follow Jiiggy on Instagram https://www.instagram.com/jiiggy.333/
Big Pimpin' – Jiiggy feat. (Connie Diiamond & Deveye) – YouTube
© 2023, Brxton. All rights reserved.