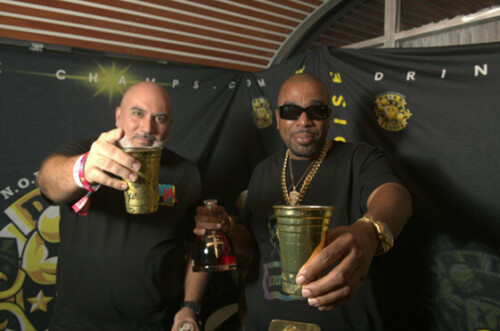 This year, Rolling Loud Miami's leading sponsor, D'USSÉ Cognac curated a special mobile podcast studio with N.O.R.E. and DJ EFN's Drink Champs Podcast for a live podcast taping activation on-site.  
Recording from a custom studio, the duo sat down with headlining performers such as GRAMMY-nominated group City Girls, Fivio Foreign, Curren$y, Rap Radar's Elliot Wilson, artist and media personality Nems, and more to discuss culture, event highlights, music hot takes and more while sipping on D'USSÉ. You can tune into Drink Champs' full, special Rolling Loud Miami episode in the coming weeks on all streaming platforms. 
"Drink Champs partnering with the D'USSÉ family is always an exciting opportunity." said N.O.R.E. "After our first podcast pop up last year for Art Basel we had to keep that energy going at Rolling Loud Miami. We've got a great episode coming up!" 
We also had athlete turned artist Antonio Brown, 2Rare, Robb Banks, CJ, and media personality YesJulz stop by our backstage sample activation and were spotted sipping on D'USSÉ. 
D'USSÉ is continuing to lead exciting activations across festivals nationwide. Following last year's partnership with The NEW Rory and Mal Podcast at Made in America, fans can except more exciting content to come from the festival season. Separately, D'USSÉ also gave fans the opportunity to create their own custom vinyls and festival a chance to win free festival survival gear at our custom vending machine. 
© 2023, Seth "Digital Crates" Barmash. All rights reserved.