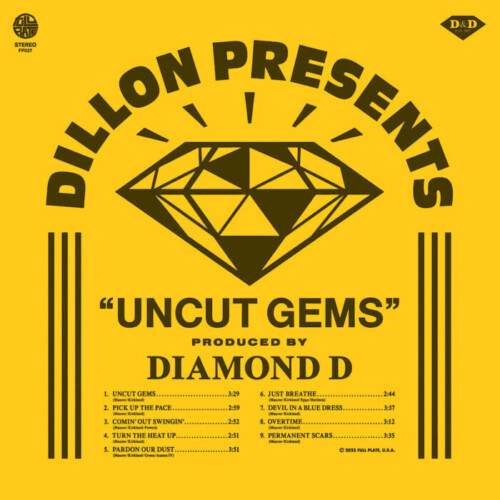 The Atlanta-Bronx duo of Dillon & Diamond D have joined forces for the dynamic and hard-hitting new album, Uncut Gems. It represents the culmination of nearly 15 years of friendship and shared admiration between the two, which previously led to collaborations on Dillon's dope 2017 release, Black Tie Affair.
"After continuing to work together and kicking it over the years, it was only natural to do another project and to stretch it out to a full album," Dillon says of Uncut Gems, and Diamond D shared similar sentiments. "Dillon is a dope emcee who just happens to be a student of the game and a boom-bap head," the DITC member says. "Us coming together was an easy mesh."
The results clearly speak for themselves with the album, which is a tightly produced and incredibly cohesive piece of work. Beyond having a solo producer on deck—and a living legend at that—Dillon controls the pacing with his attention-demanding voice and lyrics. That's apparent from the jump on the title track, which features Dillon and Diam sharing the mic over celebratory production.
From there, Uncut Gems rolls out one banger after the next, like "Comin' Out Swingin'" featuring Elzhi, who Dillon was honored to have on the album. Other standouts include both artists' personal favorites. For Diam, he's loving the uptempo feel and effortless bars of "Pick Up the Pace," while Dillon favors "Turn the Heat Up" because of its vintage DITC sound with smooth rhymes and funky scratches. Dillon also handles DJ duties throughout the record.
Those two tracks may be solo affairs for Dillon, but he's joined by some other heavy-hitters on here including Planet Asia, Ras Kass, Stacy Epps, and Slimkid3 of The Pharcyde. They help to round out the aesthetic of Uncut Gems, a slick blend of classic and modern that is sure to turn some heads.
Uncut Gems is available now through all major DSPs as well as Bandcamp, where the LP can be purchased on vinyl and cassette (with bonus instrumentals). Bundle packages that include physical copies, t-shirts and even matchbooks are now shipping, courtesy of FULL PLATE!
© 2023, Seth "Digital Crates" Barmash. All rights reserved.