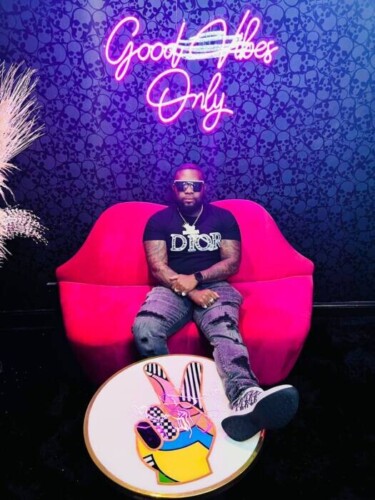 DJ Da Don is a captivating and boundary-pushing artist who has left an indelible mark on the music industry. With a fusion of influences from his Haitian roots, vibrant Miami upbringing, and the gritty streets of Chicago, DJ Da Don has carved out a unique sonic landscape that transcends genres. His journey as a talented artist and super producer is a testament to his unwavering passion, relentless determination, and unwavering commitment to musical excellence.
DJ Da Don's path to success was not without obstacles. Growing up in Haiti, he developed a deep appreciation for the rich musical traditions of his homeland. At a young age, fate led him to Miami, Florida, a melting pot of cultures that further expanded his musical horizons. It was in Miami that he honed his craft, immersing himself in the diverse sounds of the city and forging connections with local talents who would later influence his artistic vision.
Chicago, with its vibrant hip-hop scene, beckoned DJ Da Don to explore new possibilities. The city's energy and raw talent captivated him, and he quickly ingrained himself in the music community. Collaborating with influential figures like Chief Keef and Lil' Reese, DJ Da Don found his artistic voice and began making waves with his innovative production style.
While DJ Da Don was initially headed down a destructive path, a turning point came when he crossed paths with Young Chop, a producer from 300 Entertainment. Under Young Chop's mentorship, DJ Da Don's passion for music gained new direction and purpose. He embraced the power of storytelling through beats, infusing his tracks with emotion and authenticity.
Drawing inspiration from his street upbringing and the artists he admired, DJ Da Don embarked on a mission to merge diverse musical influences. From the trap-infused beats of Rick Ross and Young Jeezy to the infectious melodies of Gucci Mane, he masterfully blended these elements with his Haitian heritage, creating a sound that was uniquely his own.
DJ Da Don's talent and dedication soon caught the attention of renowned artists worldwide. Collaborations with acclaimed artists like Moneybagg Yo, NBA Youngboy, and Tee Grizzley solidified his reputation as a versatile and sought-after producer. His ability to adapt his production style to different artists and genres showcased his versatility and further propelled his rise to prominence.
DJ Da Don's impact extends far beyond the studio walls. As a respected figure in the music industry, he has become a trusted advisor and collaborator, offering valuable insights and guidance to emerging talents. His astute business acumen and extensive network have made him an invaluable resource for artists, producers, and industry professionals alike.
DJ Da Don's artistic journey is a testament to the power of passion, determination, and a relentless pursuit of musical excellence. From his Haitian roots to the vibrant streets of Miami and the influential hip-hop scene in Chicago, he has embraced diverse influences and merged them into a sound that defies boundaries. With his unmistakable talent, DJ Da Don continues to push the envelope, leaving an indelible imprint on the music industry and inspiring aspiring artists to follow their creative instincts.
© 2023, Logan. All rights reserved.