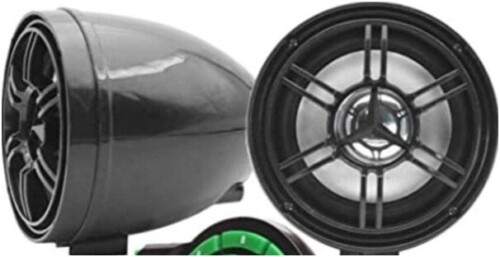 Whether you are on a camping trip, an outdoor party, or driving your UTV on weekend, if you want to have the best experience, you must select the right sound system for your vehicle. Your UTV Powersports vehicle will generate a lot of sounds and plenty of shocks due tohigh-speed and off-road journeys. Therefore, your UTV sound system has to be good enough to tolerate those shocks and derive high-quality load sounds. When it comes to purchasing the best UTV audio system, you should know that there are mainly two types of UTV audio systems- a) active speakers that include built-in amplifiers with speakers, and b) passive speakers that require an external amplifier. In this article, we will explain the difference between these two types of speakers as well as look into some other important features that the best UTV audio system should possess. 
The Difference between Active and Passive Speaker Systems:
To decide on whether to purchase an active speaker or a passive speaker, you should consider the following table.
| | | |
| --- | --- | --- |
|   | Active Speaker | Passive Speaker |
| Amplifier | Have a built-in amplifier | Needs an external amplifier |
| Power | Needs a power source to function | Does not need the power to function |
| Set-Up | Easy for DIY set-up with fewer additional components | Various cabling and additional components are required |
| Weight & Size | Heavier and larger | Lightweight and smaller |
| Repair | Difficult to repair due to integrated amplifier | Easy to repair |
| Upgrade Option | Not Available | Available |
| Price | Higher in price | Lower in price |
Hopefully, this table will help you to determine which speaker system is best for you. However, you should also understand that the sound quality of a passive speaker significantly depends on the compatibility between the amplifier and the speakers. 
Other Things to Consider in a UTV Sound System:
A. Sound Quality:
The sound quality of your audio system matters a lot while riding a noisy UTV vehicle. Therefore, the UTV speakers that you will choose should have an excellent power rating (at least 50 Watts RMS). Your sound system needs to derive crystal clear sound at the highest volume irrespective of the terrain and speed of your vehicle.
B. Waterproofing Rating:
Waterproofing quality is another important thing to consider while purchasing an audio system. There are different IPX ratings with different waterproofing qualities. Know the details of the IPX rating and check the IPX rating of your sound system. A good UTV audio system should have at least an IPX6 rating to resist heavy water sprays and high-pressure water.
C. Connectivity and Installation:
Your audio system should also have Bluetooth connectivity so that you can easily monitor your system from a distance using your phone. You can also take away your smartphone. You should also consider purchasinga DIY UTV sound system for easy DIY installation. 
D. Size and Compatibility:
The size of your sound system is an important thing to consider while placing it into your UTV. You should have a clear idea about the available space of your vehicle and check the size of the audio system. Your audio system also needs to be compatible with multiple devices, including Apple, Android, Blackberry, and Windows. 
These are some important features that you should consider while purchasing the best UTV audio system for you.
© 2023, StanleyGatero. All rights reserved.