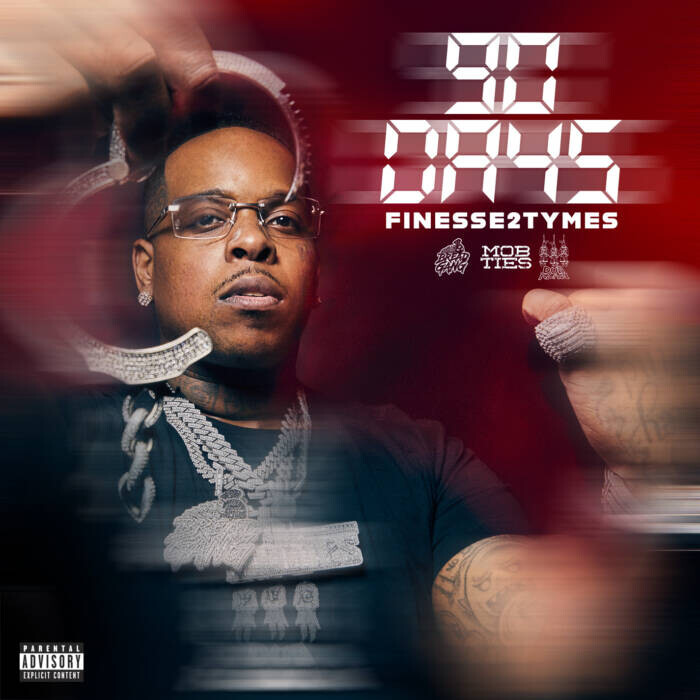 It took rapper Finesse2tymes just 90 days to remix his life, following five years in prison. The Memphis, Tennessee native (turned Houston resident) not only repaired broken relationships, but he inked a deal with Mob Ties/Atlantic Records and recorded arguably some of the best music in his career. The culmination of that time is his upcoming project 90 Days. Finesse has weathered the storm, changed his stars, and is now geared for his place in the sun.
Born and raised on the East Side of Memphis, most of Finesse's young adulthood was surrounded by the walls of a prison cell. His first prison stint happened at 14 and he was in and out of prison until his most recent release. At 21, he started formally making music, forming a collective called Memphis Greatest Underrated with several local artists including Blac Youngsta and Moneybagg Yo. The crew released a self-titled EP in 2019 while Finesse was serving his final stint in prison as the group disbanded. While away, Finesse perfected his craft, writing rhymes and plotting his next moves to ensure this prison sentence will be his last. He found a way to keep track of the major players in the industry who followed his music. Among them was Mob Ties Founder and CEO J Prince Jr., son of legendary Rap-A-Lot kingpin J. Prince, who later signed him. At the top of July 2022, Finesse left prison and boarded a private jet bound for Houston. The start of his new life had finally begun.
He dropped the menacing "Get Even" within the first week of his release, cracking the 30 million mark in views on YouTube alone. He chased it with "Back End," showcasing a more sophisticated style that still harbored his gruff delivery. He even mended fences with Moneybagg Yo, surprising fans everywhere with their collaborative "Black Visa" track and informally inaugurating his signing with Bagg's Bread Gang. Few can comprehend Finesse's hustle, yet it's a combination of age, experience, understanding, and healing. Finesse2Tymes has long plotted on the release of 90 Days, an autobiographical work that will run the gamut of his life and career. The work will undoubtedly secure Finesse's place in rap stardom, though for him, his goal is even bigger than music; it's to change lives.
© 2023, alanna. All rights reserved.