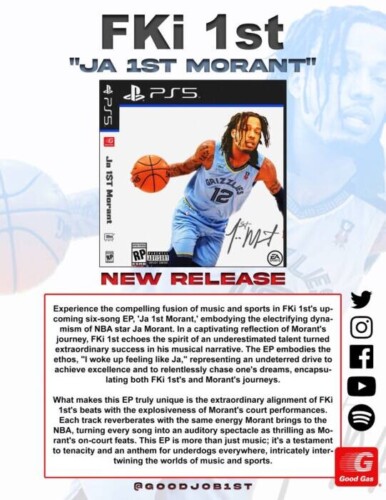 FKi 1st os an Atlanta native, best known for his all-star production working with all the elites in the rap game — including Post Malone, Kanye West, Travis Scott, Migos, 2 Chainz, Lil Uzi Vert, and many more.
Today, Fki 1st returns with his newest project titled Ja 1$t Morant, a six track body of work that sees 1st channeling his inner Ja Morant. Ja is best known for his talents on the basketball court, specifically with the Memphis Grizzlies, as well as his wild antics off the court. 1st woke up one day feeling like Ja… and that's how the project came to life.
Blending the worlds of fusion of music and sports, Ja 1$t Morant embodies the electrifying dynamism of NBA star Ja Morant. In a captivating reflection of Morant's journey, FKi 1st echoes the spirit of an underestimated talent turned extraordinary success in his musical narrative. The EP embodies the ethos, "I woke up feeling like Ja," representing an undeterred drive to achieve excellence and to relentlessly chase one's dreams, encapsulating both FKi 1st's and Morant's journeys.
Speaking on Ja's influence, 1st states, "Man, bruh's impact on the game now, the way he moves, the way he plays. On the court, he knows what he's doing. His ball control, everything he does on the court. High impact, fast moving, fast paced. That's how the music is on this project."
What makes this EP truly unique is the extraordinary alignment of FKi 1st's beats with the explosiveness of Morant's court performances. Each track reverberates with the same energy Morant brings to the NBA, turning every song into an auditory spectacle as thrilling as Mo-rant's on-court feats.
This EP is more than just music; it's a testament to tenacity and an anthem for underdogs everywhere, intricately intertwining the worlds of music and sports.
He also said this about balancing both being a producer and rapper:
It's crazy balancing both being a rapper and producer. Some days I feel like hitting the MPC, making beats. Sometimes I feel like using my voice. Maybe sometimes I put both together, do them at the same time. It really depends on the day for me. It literally depends on the day and what kind of inspiration I got.
© 2023, Seth "Digital Crates" Barmash. All rights reserved.