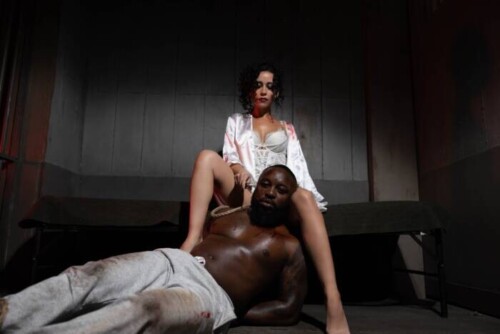 GTB Tonio sets the tone as the song begins with his smooth and powerful vocals. The opening lines immediately convey the intensity of the emotions behind the song, and the writing is also excellent. KVTE's vocals complement Tonio's perfectly, with his soulful voice adding an extra layer of depth to the track.
The lyrics of "Wait No More" are raw and relatable, touching on the universal theme of love and heartbreak. GTB Tonio paints a vivid picture of a tumultuous relationship where the couple keeps returning to each other despite their differences. It's a complicated topic requiring plenty of nuances, but the pair do an excellent job addressing it. 
One of the standout elements of "Wait No More" is the production. The beat is haunting and atmospheric, with a dreamy quality that perfectly captures the feeling of being lost in love. The sparse instrumentation, consisting of piano chords and a subtle drumbeat, allows GTB Tonio and KVTE's vocals to take center stage. With its layered harmonies and soaring melody, the chorus is particularly powerful and catchy.
"Wait No More" is a powerful and affecting track that proves the two performers' chemistry and skill. The song is a perfect example of the power of music to capture the complexities of human emotion. GTB Tonio's lyrics are honest and vulnerable, while KVTE's vocals add depth and soul to the track. The production is top-notch, and its well-put-together haunting atmosphere perfectly captures the song's mood.
It's clear that "Wait No More" is a labor of love for GTB Tonio and KVTE. The song represents a cathartic release of emotions for both artists as they explore the highs and lows of a tumultuous relationship. It's a song that will resonate with anyone who has ever experienced the pain and joy of love and the aftermath of it all.
In conclusion, "Wait No More" is a standout track showcasing GTB Tonio's and KVTE's talent. The song is an emotional rollercoaster, with poignant lyrics, soulful vocals, and haunting production. It's a must-listen for anyone who appreciates the power of music to capture the complexities of human emotion. "Wait No More" is a testament to the enduring power of love and the strength of the human spirit to persevere in the face of heartbreak.
Listen on Spotify: https://open.spotify.com/track/2hg8OUWLfGU8YJgvop3TnV?si=f5c1567bf8874a69
Official Music Video: https://www.youtube.com/watch?v=ns1D_sCJLXI
Follow on Instagram: https://www.instagram.com/tonewriteshitz/?hl=en
© 2023, Logan. All rights reserved.