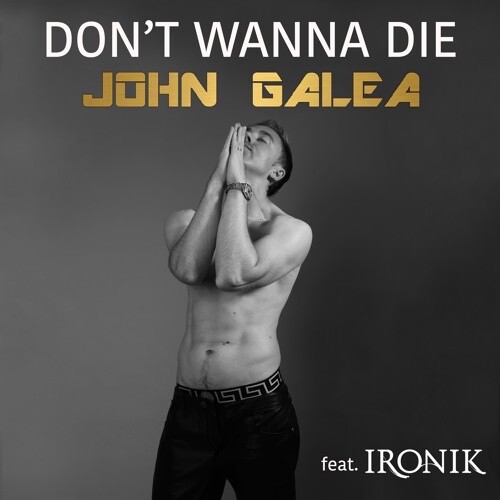 Award winning singer/songwriter John Galea releases his latest single "Don't Wanna Die" featuring rapper Ironik today. This release follows the success of Galea's 5 Independent EP's starting with The Scrapbook EP (2012), Under Attack (2013), Notes From My Piano (2014) and 'Missing Pages' (2016) which featured single 'When You Truly Love Someone' which hit Top 10 in the Commercial Charts in 2017, which featured Celebrity Gemma Oaten in the music video. John followed up that success with his Christmas EP ' Christmas Round The Piano' (2018), scoring a Top 30 iTunes Charting track in 2019 with his Christmas song 'A Simple Christmas'. Galea followed up that success with his hit single "Hero Within You" featuring Guildhall Opera Singing Sensation Hannah Long. Now Galea is ready to release more new music to his fans with his latest single "Don't Wanna Die" featuring Ironik.
When asked about his latest single Galea said, "Don't Wanna Die' is about being addicted to a love that isn't right for you & you find it hard to let go of. Again this is a very personal song written about a past relationship I was stuck in, like a habit I couldn't break."
Over the last few years John Galea has been making waves in the music industry working with Number 1 producers and writers from around the world including names like Darkchild, (Destiny's Child, Whitney Houston), Beluga Heights (Jason Derulo, Britney Spears), & The Monarch (Kelly Clarkson, Rita Ora) and more! John started songwriting when he was 13 after winning a UK National Songwriting Contest with his track "I Am Not An Angel." Following that win John started writing for artists such as Lao Ra (Jesus Made Me Bad), Thea Garrett (Frontline) & Gianluca Bezzina (Come Float Away) and more! Around this time his track "Trendsetter" was synced on US TV. John, has also toured the UK supporting the likes of McFly and Boyzlife, as well as performed on the mainstage for London Pride, Birmingham Pride, Northern Pride, Norwich Pride, as well as the main stage on festivals like The Sundown Festival and more. Stay tuned to John's socials below for more updates on future releases as he gets ready to release his next project.
© 2023, Brandon. All rights reserved.