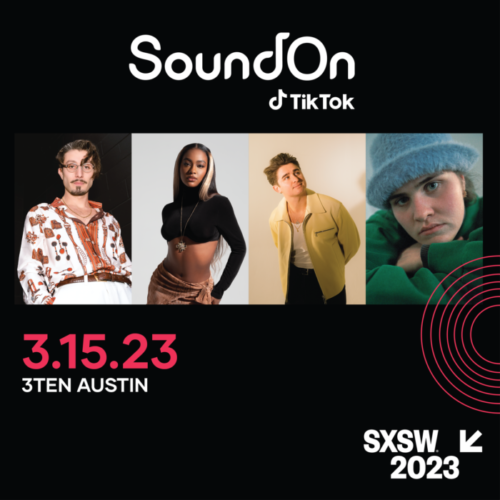 As a global platform for global music distribution, music marketing and artist services, SoundOn, powered by TikTok, is designed to empower new and rising artists and set them up for success. This year, SoundOn hits SXSW, hosting a SoundOn @ SXSW Showcase celebrating incredibly talented artists from SoundOn's music community. Featuring performances from bbno$, Justine Skye, Nicky Youre, and venbee, SoundOn's artist showcase kicks off at 7pm at 3TEN in Austin, TX.
Proudly independent and always going against the grain, bbno$ built an audience his way, scoring major hits like "La La La" ft. Y2K and "Edamame" ft. Rich Brian. An established star in the R&B scene, Justine Skye earned a boost when her 2014 song "Collide" earned an astonishing second life on the platform in recent months–with help from a SoundOn-released sped-up remix–climbing all the way to the top of TikTok's trending charts in early 2023. Reaching over 2.5 million on-demand streams per day at its peak, "Collide" is a testament to the timelessness of Skye's talent and TikTok's ability to revive hits.
Nicky Youre scored one of the biggest hits of 2022 with "Sunroof" ft. Dazy–originally released via SoundOn–reaching the Top 5 of the Billboard Hot 100 after it trended on TikTok and earning Nicky a deal with Columbia Records. Rising artist venbee used SoundOn to help her navigate the music industry, and her personal and tuneful songs like "messy in heaven" and "Low Down" have resonated with the TikTok community. venbee recently used her SoundOn success to score a major label record deal.
Earlier on March 15th, before the showcase, SoundOn hosts an Open House, offering the opportunity to meet the SoundOn Artist Services team. Offering drinks, bites, and a DJ set by Yahdy Sensei, the Open House runs from 12:30-3:30, also at 3TEN.
On March 13th, SoundOn executives will participate in a panel focusing on the many ways SoundOn can help new and rising artists develop an audience. Open to all badge holders, SoundOn's panel, "How to Market Your Music with SoundOn w/ TikTok," happens at 2:30pm CT in Austin's Convention Center.
© 2023, Seth "Digital Crates" Barmash. All rights reserved.