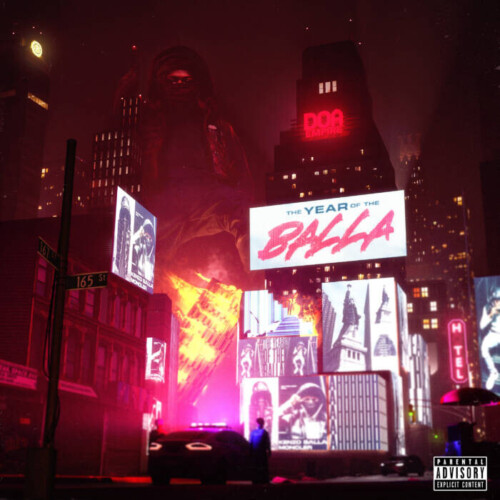 Swiftly rising through the rap ranks of the Five Boroughs and beyond, applying pressure to his opps every step of the way, Bronx rapper Kenzo Balla is taking his explosive sound to new heights. Continuing a high-volume hot streak of releases, Kenzo shares his new EP, The Year Of The Balla. Featuring kaleidoscopic drill and Jersey club-inspired production from FaZe Kaysan, Cxdy, Sandstorm, Marstikkupp, and more, The Year Of The Balla is available everywhere via 10k Projects.
Home to high-powered recent singles like the unrelenting "Opp Huntin'" (1.3 million views on YouTube, 1 million streams on Spotify), the soulful "What's The Move," and the TG Flockaa and Rayy Balla-featuring "Unfinished Business," The Year Of The Balla is anchored by a cohesive, contemporary East Coast sound which benefits greatly Kenzo's most wide-ranging sound palette to date. Tracks like "Emotional Damage" and "My Type Of Time," produced by Cxdy of Internet Money, are immediate standouts as two of Kenzo's most vulnerable songs yet, while hard-nosed cuts like "Who Spinnin" and the Set Da Trend-featuring "Brand New" stay true to form, with Kenzo's war-ready energy booming through each bossed up bar.
A rising name in one of the nation's busiest rap scenes, Kenzo Balla made his mark on the scene with his relentless rhymes and high-energy vocals. Known for collaborating with fellow Bronx heavyweights like his brother TG Flockaa, Kenzo kicked off his career with a frenzy of fiery videos, including local hits like "5th To Sev" ft. TG Flockaa & Pdot Sav (2.2 million video views), "OOTAZ," and the "Love Nwantiti"-remixing "Let Me Know" (2.1 million views). This summer, the former AAU baller tore up the streets with "Dead Gzz," a vicious, uptempo missive that racked up over 1.7 million video views since its release in June 2022. Kenzo closed out 2022 in typically aggressive fashion with Mr. Ready to Blitz (Deluxe), home to the NPR-approved "Krash Out." Kenzo is currently nominated for XXL's "10th Spot," with a chance to be voted onto their 2023 Freshman Class–vote for Kenzo HERE.
With The Year Of The Balla officially underway, stay tuned for much more from Kenzo Balla.
© 2023, Seth "Digital Crates" Barmash. All rights reserved.