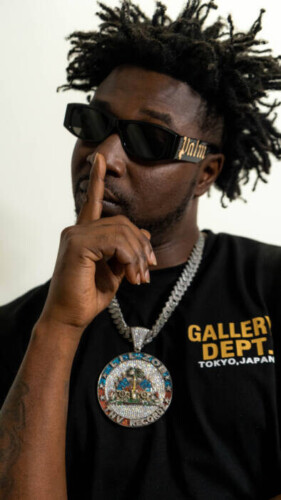 Lil Zoe was born in Newark, NJ shortly after his parents migrated to the US from La Gonaze, Haiti in search of better opportunity for their family. He is one of 27 siblings born in the US and Haiti. At the age of 7 his parents decided to relocate, meeting with many of his siblings from Haiti, in Miami, FL. Growing up in Miami in the 90's Lil Zoe found a passion for all aspects of the Hip Hop Culture. At the age of 16, he would skip school and go to a homemade recording studio in Florida City, FL using a four track to record his first cassettes, then placing them in neighbors' mailboxes. The outpour of support from his first cassette was the catalyst to his decision to make his passion for music his life's work.
At 16 years old, he already had a larger vision starting the group TRU Haitian Bakavon, creating his first record label which continued to operate as an underound music hub in the ghetto of Florida City. In the early 2000's he moved to Atlanta, GA where he was able to start working with producer, Jon Boi. This gave him the opportunity to go on tour with the Zoe Pound and Rick Ross. After the tour he came back to Miami, started the record label Lajen Boys Records, started working promotions and managing artist such as J Dirty, Killa Jay, Lil Wito, Zoe Bra, and Lajan Slim. He opened for Young Jeezy, Rick Ross, Trick Daddy, Ice Burg, Billy Blue, Ball Greezy, Desloc Piccalo, and Mike Smiff. His increased popularity amongst artist and the community in Miami-Dade gave way to large success promoting for Charles Pop Young at Miami Nights, Diamond South, and King of Diamonds. This allowed him to give many local artists their first opportunities to perform in front of large number crowds. It also led to multiple collabs and features with artist such as DJ Paul, Pastor Troy, OG Boobi Black, Trick Daddy, Kevin Gates, and many more.
Today, Lil Zoe is working with Live Nation in film, production, and audio engineering. He was a part of Pastor Troy's movie, "Down To Come Up" and is featured in the upcoming movie, "Cuzzo" with Mike Smiff, Kent Jones, and Tip Drill. He is back in the studio working on his newest record with the mentorship of a colleague from Empire Records. Along with his record, he is completing his first book and his first digital tv show that will be coming out by Summer of 2023. As a dedicated supporter of local community organizations, Lil Zoe with the Black Lions Motorcycle Club, contribute not only time but financial support to many youth organizations throughout Miami-Dade. Lil Zoe is focused on putting his mark on the music industry.
© 2023, Leonard Magazine. All rights reserved.