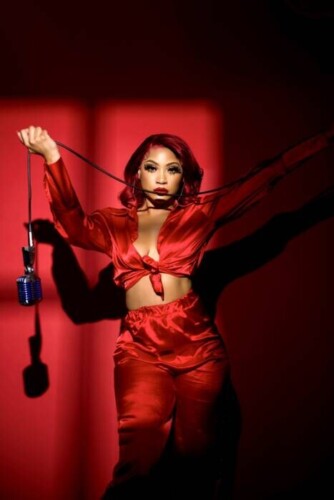 Meeko Taylor , singer, rapper, comedian and TV personality. Born and raised in south central Los Angeles, her love and passion for music and performing arts started as a young child when she joined the school choir at Manchester elementary school. As the years went on she continued to participate in school choir competitions and musicals. At the age of 14 she got her first feature on The run-in of the Bulls album and at 16 she completed at Honolulu Heritage music Festival where her schools choir took first place.
At 21 she began her own music career when she collaborated with local Bay Area artist "Sabotage"and was featured on his hit single chain swang remix where they performed all of the Bay Area opening for artist like, The Luniz, Dru Down and Too short just to name a few. Meeko took on modeling and decided to put the music second after landing a spot in the Love Rance music video. In 2011 she partnered up with friend Autumn Skyy and created "Skyy Taylor" where they broadcasted parody comedy skits and a series of interviews, one of them being the late BadAzz of the Dogg Pound. Meeko decided that her music should be her number one focus when her older brother/ mentor gave her the job of creative director for his first single off of the "Free Bno" album in 2020. From there she dropped her hit single "Oh Jesus" and it was an overnight hit! Landing playlists placements and magazines features such as street wave media and others. From there she released 3 more singles and was featured on a "come slide" by local Alaskan artist cashlyfe Stevens. Currently she is on hit reality show "One Mo Chance" on the Zeus network and has plenty of more music due to release soon.
© 2023, Logan. All rights reserved.