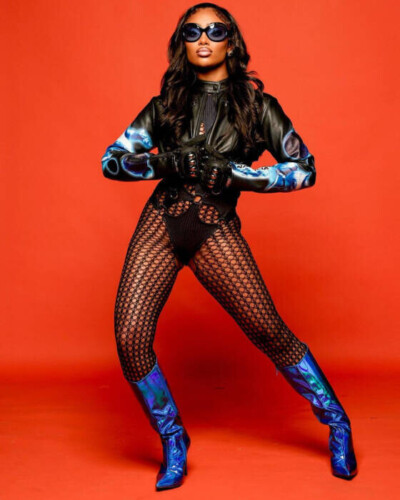 Photo credit: @RichPhotography (Shakur Richardson)
Philadelphia has become a hotbed of uptempo jams, emerging as a center of the club music boom taking the industry by storm. While most of the young artists in the scene approach these fast-moving instrumentals with equally fast-paced rhymes, one young artist–19-year-old singer, rapper, songwriter, and dancer Lay Bankz–is redefining the role of a vocalist on club instrumentals.
Effortlessly skating over these uptempo instrumentals, often provided to her by her close collaborator JUMBO, Lay demonstrates her facility with melody, atakingplying traditional R&B songwriting chops and grafting them onto the instistent percussion common in club music. On songs like the Pitchfork-acclaimed "In My Bag," Lay Bankz's deliberate vocals create a magnetic push-pull with the club beat, her melismatic runs slicing through the negative space while the drums race on like an accelerating heartbeat.On other occasions, Lay Bankz grabs the microphone and chooses violence, unleashing a spitting ability that rivals anyone in her crowded scene. She first revealed her rhyming talent in a performance with On The Radar, and since then has been dazzling with her athletic raps.
Lay Bankz first emerged onto the scene as a dancer, gaining a following on social media with her energetic interpretations of regional dance moves, like the "blick." When she built a large enough platform, she showed the world her true talent with the viral hit "Left Cheek (Doo Doo Blick)," a club and R&B hybrid that generated nearly 450k creations on TikTok. The success of "Doo Doo Blick" established Bankz as a bonafide TikTok phenomenon–wit over 1.4 million followers and 59 million video views–and one of the most sought-after talents in the club scene–she showed off her chops on "PIANO," a highlight from Bandmanrill's debut album, and recently got a call from Ciara, who recruited Lay Bankz to appear on the "Dance Mix" of her new single "Da Girls." Videos of Lay dancing with Ciara generated over 1 million combined views on TikTok.
Bankz is currently climbing charts with her song "Na Na Na," an impossibly energetic banger. A fast-paced anthem, "Na Na Na" is a clarion call to the dancefloor, as Lay builds on the titular playground chant with tongue-twisting bars, before floating over the track with a melodic bridge. To date, the song has generated 5.3M+ global streams and over 186K creates on TikTok. Recently mentioned as a potential Song of the Summer for 2023 by The FADER, "Na Na Na" has been featured on key playlists such as Spotify's Most Necessary, Feelin' Myself, Internet People and the cover of Jersey Club Heat. Filmed in Miami during spring break, the official music video has reached over 800k+ views, with over 26k YouTube shorts creates.
With "Na Na Na" catching fire, Lay kept the momentum going with "I Deserve," a song that splits the difference between her R&B jams and hard-nosed raps, and "Throw Dat," an irresistible club banger that features some of Lay's best bars to date. Just days before celebrating her 19th birthday, Lay made her debut on Wild 'N Out, and earlier this month, she gave "Na Na Na" the From The Block treatment. Most recently, she was mentioned by Complex as a Philly artist on the rise in their list of The Best Rap Cities Right Now.
With an EP on the way and much further to rise, Lay Bankz is poised to become the next face of Philly. Sit back and watch her rise!
Follow Lay Bankz on socials: tiktok | instagram | spotify | youtube
© 2023, Seth "Digital Crates" Barmash. All rights reserved.