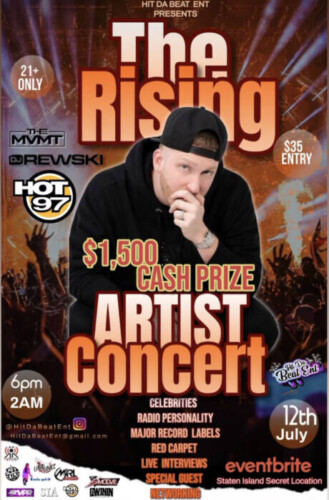 Staten Island's own Big Breeze ceo of Hitdabeatent hosted a showcase that you did not want to miss. With several attendees waiting to hear the new sounds of artist from around the Tristate area. Not only were several artist able to showcase their talents but, the event was filled with Major Record Labels , A&Rs , DJs from both Hot 97 , Power 105.1 ,and OnTheRadar Host. Artist were given a chance to be played on radio stations, radio interviews and giving away $1500 to the showcase winners.

The event was most definitely a big influence for the music industry and gave several artist a platform to showcase their talents . Through out the night fans sipped cocktails while listening to a variety different styles from several different artist. This event unquestionably will be the start to many artists furthering their career. Hitdabeatent is offering opportunities for radio play, radio interviews and, features on major websites. Being apart of the showcase offers artist tons of new Fans and cold hard cash in hand! Hitdabeatent has been opening more doors for artists and if you missed their last event you definitely don't want to miss the next Hitdabeatent event that will be on July 12th. So come out support and show case your talents this will be an opportunity of a lifetime that you don't want to miss.

Follow on Instagram @hitdabeatent
© 2023, Logan. All rights reserved.