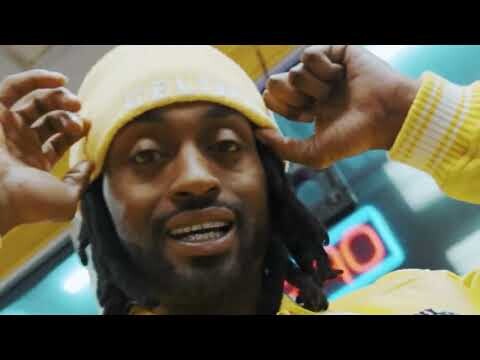 As the "Voice of the Streets" in Chicago, Lil Durk dedicates himself to bringing the coldest rhymers in his city the spotlight they deserve. In the latest video from the Only The Family label compilation Loyal Bros 2, Durk's close associate OTF Boonie Moe celebrates his family's success in "We Did It." A minimalist drill banger produced by DJ Bandz & DJ FMCT, "We Did It" welcomes a ferocious guest verse from the late King Von, who dabbles with numerology as he describes his status as O-Block royalty: "Got twelve year olds doin' kick doors /Shootin' dice on the block, what they hittin' for?/Bet the nine firin', then I hear the ten four," spits Von. Not to be outdone, Boonie Moe captivates with his nonchalant flow, saluting his family in his verse and hook: "OTF, that's mob ties, lil' n****, and ain't nothin' realer, he spits."
In the video, directed by JustinM, Boonie Moe stalks the street of Chicago with his brethren, while Von makes his presence felt as an animated shadow. "We Did It" is the latest in a line of Loyal Bros 2 videos that spotlights rising members of the crew, following OTF Jam's heavy-hitting "Federal Freestyle," Seen It All," by Deeski and Lil Zay Osama, and "Thug," featuring Doodie Lo, Chief Wuk, and Icewear Vezzo. Earlier, Durk and OTF shared higher profile videos for songs like the gripping Durk and Future track "Mad Max", Durk's solo banger "Hanging With Wolves," and the Doodie Lo and Kodak Black collaboration "ISTG Pt. 2."
An associate of Durk's since they were children in the Chi, Boonie Moe has a reputation in Chicago for his steely demeanor and raw lyricism. On his Platinum-selling collaboration "Every Chance I Get" w/ DJ Khaled and Lil Baby, Durk gives Boonie Moe a shout out, saying "I pulled up on the Lam' 'cause she a fan of Boonie Moe." In recent months, Boonie Moe made waves with the Loyal Bros 2 cut "For Real" and "Remember," his recent From The Block freestyle.
Highlighted by several brand new tracks by Lil Durk, including the Deeski collab "Block Is Hot," Loyal Bros 2 touts the benefits of keeping a tight circle of devoted vultures who were around before the fame and fortune. Curated by the Chicago-bred superstar, the new tape showcases the raw lyricism and melodic instincts of the label's roster of talent, which now boasts luminaries like Doodie Lo, Booka600, Chief Wuk, C3, Deeski, BoonieMoe, OTF Jam, and more. With additional guest spots from Trippie Redd, PGF Nuk, BIG 30, and many others, Loyal Bros 2 is available everywhere via Only The Family/EMPIRE.
Stay tuned for much more from OTF Boonie Moe and the rest of Only The Family in the near future.
© 2023, Seth "Digital Crates" Barmash. All rights reserved.