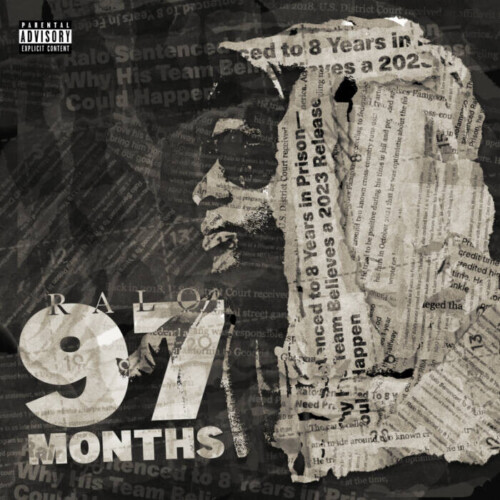 Pushing beyond his confines, today Ralo releases his latest project 97 Months, available to stream and listen to all music streaming platforms via his label FAMERICA. The open and honest body of work chronicles the in-real-time experiences and dealings the revered Atlanta rap artist has endured since his incarceration. With features from Jadakiss, Rotimi, Rowdy Rebel, Hunxho, Derez De'Shon 97 Months shines in raw honesty that paints a picture of perseverance and relatability to anyone navigating circumstances of adversity. 97 Months follows his 2021 debut project release, Political Prisoner.
Hailing from 'The Bluff' by way of Atlanta, Ralo has been highlighted in the past for vivid lyrical caliber, and his undeniable ability stands out from other rappers. Dripped in heavy-hitting, potent production, 97 Months soars with Ralo's sonically rich hooks and infectious charisma as the world receives a more in-depth sense of his story. His latest music offering exemplifies these sentiments to a magnitude as listeners receive a masterful project that attests to his allure whenever he is placed.
97 Months was recorded entirely via phone while Ralo was incarcerated with the determination to put to pen his life on wax. Earlier this month, referencing the release of 97 Months, Ralo shared:
"My biggest part about naming the project 97 Months is due to the fact that, that was my sentence and I didn't get any charges reduced nor did I cooperate. I had no sentence reduction whatsoever and I just wanted to hold on to that. It's an important 97 Months that I've done – away from my family, my kids, my fiancée and from my freedom itself and it highlights that I've been able to grow within that time. I've been able to build better relationships because when I was out, people were around using me for clout, fame, money and more. Throughout these 97 Months I was able to really discover those that had my best interest at heart and love me for me and not just what I have to offer or my past actions whether good or bad. These 97 Months have showed me people that love me wholeheartedly and that's one of the biggest reasons as to why I named this project 97 Months."
© 2023, Seth "Digital Crates" Barmash. All rights reserved.