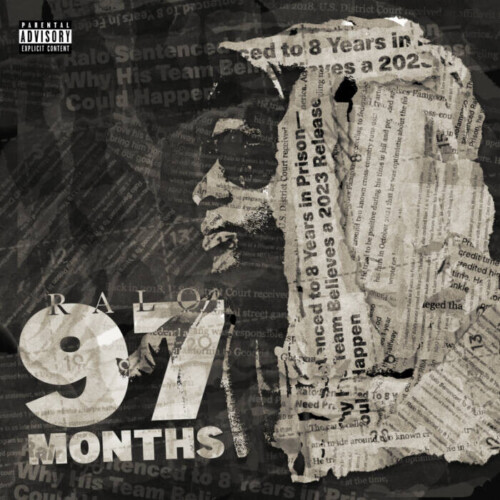 One of the most needed voices on the Atlanta rap scene, Ralo today has released his latest track, "Street Honors," featuring Jadakiss. On top of today's fresh new song unveil, Ralo also has announced the release of his next project, titled  97 Months, out April 21.
"Street Honors" cements the range of realness Ralo has maintained since his emergence on the music scene. Currently incarcerated, Ralo shows that no holds are barred for the Rap maven as he expresses his deepest thoughts and overall artistry. Evoking feelings that make his presence felt through grim bells and a knocking base, "Street Honors" moreover doubles-down on the strength of Ralo, which has not—in the slightest bit, weakened. As it stands, it has been 97 months since Ralo has been incarcerated. His forthcoming project, along with today's new track, was recorded entirely on the phone.
On a recent phone conversation Ralo, determined to express his craft and story, shared, "My biggest part about naming the project 97 Months is due to the fact that, that was my sentence and I didn't get any charges reduced nor did I cooperate. I had no sentence reduction whatsoever and I just wanted to hold on to that. It's an important 97 Months that I've done – away from my family, my kids, my fiancée and from my freedom itself and it highlights that I've been able to grow within that time. I've been able to build better relationships because when I was out, people were around using me for clout, fame, money and more. Throughout these 97 Months I was able to really discover those that had my best interest at heart and love me for me and not just what I have to offer or my past actions whether good or bad. These 97 Months have showed me people that love me wholeheartedly and that's one of the biggest reasons as to why I named this project 97 Months."
97 Months follows Ralo 2021 project release Political Prisoner, which featured T.I., 2 Chainz, Jacquees, Mozzy, Bigga Rankin, Derez De'Shon, and Jessica Dime.
Pre-Save 97 Months HERE
© 2023, Seth "Digital Crates" Barmash. All rights reserved.