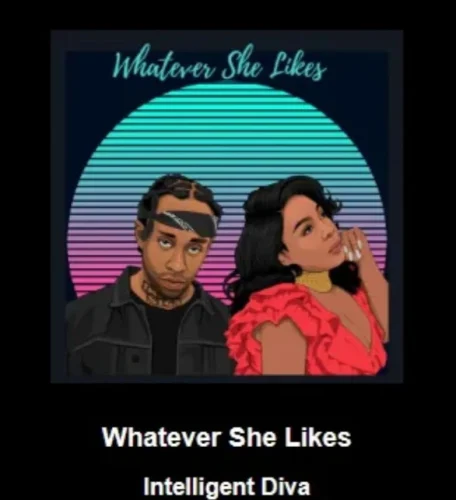 Bosses Move in Silence is her motto. She definitely is a boss moving in silence, and her work is speaking for itself.  From a business perspective she's is definitely making moves in the entertainment industry. Intelligent Diva is more than just an artist. She's a singer, songwriter, lyricist, author, animator, game designer, producer, actress, entrepreneur. Furthermore, let's just call her the Jill of multiple trades. As an independent music artist, she's meeting some amazing goal.  This goal she states was a dream come true. She has collaborated with independent music artist, film makers, across the globe. She was recently considered for 6 nominations by the International Singer Songwriters Association.
Intelligent Diva and Sean Kingston are now declared as finalist for the Best Duo in The USA by the International Singer Songwriters Association. As a multigene artist, she has created hit records in categories of r&b, pop, hip-hop, urban Latin, rock, and contemporary gospel. This time she's back and Diva is not letting up. Her new single "Whatever She Likes" is dropping on July 7th featuring TY Dolla Sign.
This is major for the upcoming independent music artist. In addition to the single dropping, there will also be an AI music video both lyric and non-lyric. Also, a lyric animated music video directed by the music mogul herself. The music single was produced by Urban Hit Makerz. The music artist tells us her music publicist Victor Hart help to make this possible. This was a goal and also a dream to have a major artist feature in her catalog, and he made it possible. The vision was set two years ago.  First, she had Sean Kingston, now she can add Ty Dolla Sign to list.
Ty Dolla is a musical genius on the track. However, the way Intelligent Diva ignites the track, it keeps you engaged. Her lyrics are powerful, full of energy and animated. She brings life to single.  The single is like a lyrical conversation between two people which has a storyline. We won't spoil it for you. You have to save the date July 7th.
Intelligent Diva has more huge features to come plus she is releasing her own video game which includes her music and voiceover actors under the label. She will also be releasing her music audio book Music Is Art. She's definitely and artist who's focused on the business side of the process, and creating her own original products which are trademarked under brand Intelligent Diva.
Follow Intelligent Diva on Instagram
https://www.instagram.com/intelligentdivamusic
Check out the Commercial for Whatever She Likes
Website:
Record Company – Intelligent Diva Music
Shop With US:
Shop at IDM Merch Boutique | Intelligent Diva
Save the Premier Link for the Live AI Music Non-Lyric video for Whatever She Likes
Save the Premier Link for the Live AI Music Lyric video for Whatever She Likes
Save the Premier Link for the Live Animated Music Video for Whatever She Likes
© 2023, Logan. All rights reserved.