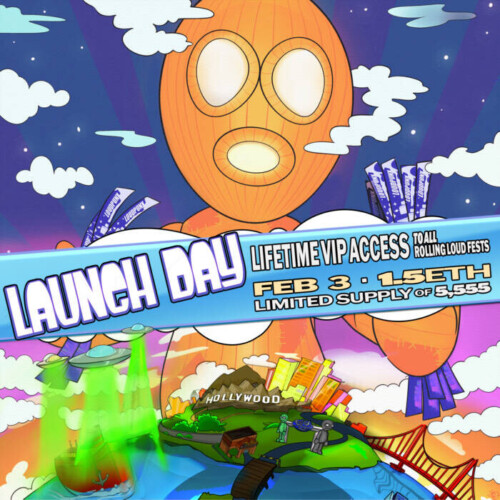 Rolling Loud cultivated a loyal community of fans and attendees on its path to becoming the world's largest rap festival. Last summer, Rolling Loud announced LoudPunx, a new Rolling Loud program, offering the festival's biggest fans a lifetime VIP pass to every future Rolling Loud event. On February 3rd, LoudPunx finally becomes available to the public.
LoudPunx Mint Details:
Price: 1.5 Eth
Collection Size: 5,555
Sale Date: Feb 3rd
Named after the "Punx" figures that populate the grounds at each Rolling Loud festival, "LoudPunx" is a collection of 10,000 NFTs that provide holders free entry into every Rolling Loud festival across the globe–for life. "LoudPunx" holders also receive many other benefits, including a generative PFP image, and preferred access to Rolling Loud's future Metaverse and Web3 endeavors.
LoudPunx is a collection of 5,555 utility enabled NFTs. "LoudPunx" offer much more than just a unique profile pic and NFT ownership–"LoudPunx" NFTs are the key to a bevy of exclusive experiences. "LoudPunx" holders receive access to their own will call line at the entrance to each festival–a much shorter line–as well as access to a private "LoudPunx" lounge at select festivals. "LoudPunx" unlocks levels of the Rolling Loud experience beyond the festivals, granting access to a token-gated Discord that promises exclusive interviews and AMAs with hip-hop figures, and LoudPunx-specific merch collabs with premier brands.
Join the Discord to learn more about LoudPunx: https://discord.gg/loudpunx
Rolling Loud mints "LoudPunx" ahead of what's shaping up to be the brand's biggest year yet. 2023 kicks off with Rolling Loud California, headlined by Travis Scott, Future, and Playboi Carti, on March 3-5, marking Rolling Loud's first festival in L.A. since 2019. Expanding its international operation, Rolling Loud debuts the inaugural Rolling Loud on April 13-15th, before heading to Europe for three festivals–the second annual Rolling Loud Portugal, and the first-ever Rolling Loud Rotterdam in The Netherlands and Rolling Loud Germany in Munich. The main event, as always, is Rolling Loud Miami, which returns for its 8th edition on July 21-23, 2023 at Hard Rock Stadium.
Led by its founders Matt Zingler and Tariq Cherif, Rolling Loud is the most powerful rap festival in history. Stay tuned for many more announcements, as Rolling Loud continues to lead the vanguard of live music experiences in hip-hop and beyond.
Buy Rolling Loud Merch: shoprollingloud.com
Buy tickets for Rolling Loud California HERE
© 2023, Seth "Digital Crates" Barmash. All rights reserved.