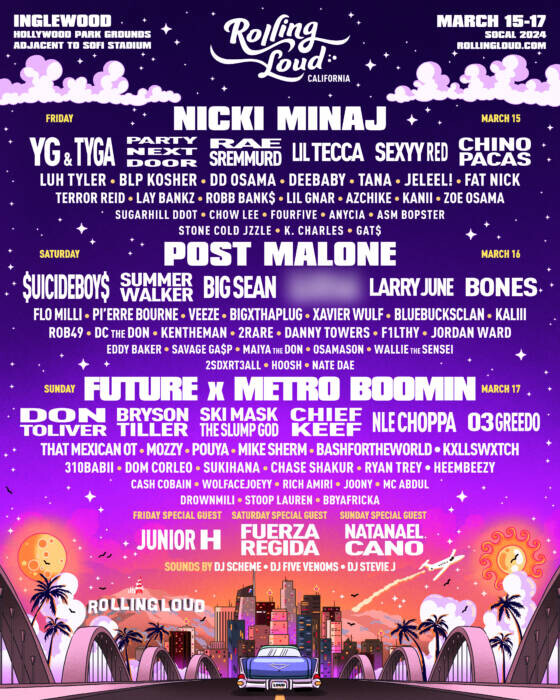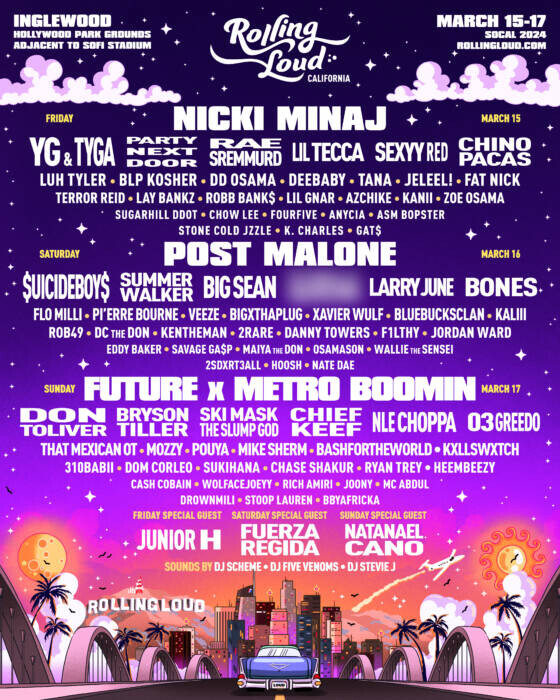 Back and better, better and back, Rolling Loud has officially announced its lineup for the California portion of the annually popular festival series. Standing as the largest hip-hop festival in the world, fans from all over are always highly anticipating the next big event, ready to see their favorite artist live and in action. 
The forthcoming Rolling Loud California headliners each day include megastar fan-favorites like Nicki Minaj, Future x Metro Boomin, and Post Malone. With other heavy hitters coming through like Tyga, PartyNextDoor, Chief Keef, YG and Big Sean, Rae Sremmurd and many more, the three day extravaganza is bound to be a blast for fans coming by to have a good time and enjoy live music, fun activations, merch and more.
Last year, around 75,000 hip-hop fans attended Rolling Loud California to see headliners like Lil Wayne, Playboi Carti, Travis Scott, and several others. This time around the excitement is just as high — especially because Future makes his second annual debut. Also, for the first time–in a move that befits the Southern California culture–Rolling Loud welcomes four regional Mexican artists to perform their corridos for the multicultural crowd: San Bernardino's own Fuerza Regida, plus Mexican artists Natanael Cano, Junior H, and Chino Pacas.
Fans are now available to RSVP for early purchase of tickets HERE — but November 17 is the lucky day for all. Rolling Loud offers several different admission passes. For a chance to win free tickets be sure to follow Rolling Loud below — they always give out goodies. 
Live Rolling Loud Updates: https://www.rollingloud.com/california-2024
© 2023, alanna. All rights reserved.