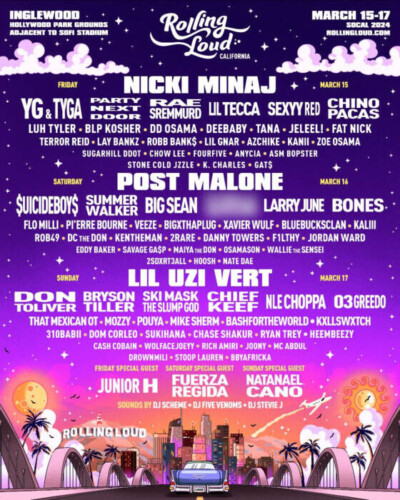 Rolling Loud continues to surprise as it enters its 10th year as a culture-shifting force. Today, the World's Largest Hip-Hop Festival announces the lineup for Rolling Loud California 2024, bringing an electric and eclectic lineup to Los Angeles for the second straight year. This year, Rolling Loud recruits Nicki Minaj, Post Malone, and Lil Uzi Vert to headline a lineup stacked with A-list rap talent, along with luminaries from Latin and rock music. The festival returns to Hollywood Park, on the grounds adjacent to SoFi Stadium, in Inglewood, CA on March 15-17, 2024.
Passes will become available on Friday, November 17th at 10am PT, only at https://www.rollingloud.com/california-2024.
Pre-Sale passes will become available on Thursday, November 16th at 10am PT, only at https://www.rollingloud.com/california-2024.
Rolling Loud California 2024 promises a memorable group of headliners, each bringing their inimitable qualities to the table. Queen Nicki Minaj tops the bill on Friday, returning to Rolling Loud California after sharing the stage with Lil Wayne last year. The upcoming show will be Nicki's second Rolling Loud headlining performance, and will include some of the first performances of songs from her upcoming album, Pink Friday 2. On Saturday, Post Malone returns to Rolling Loud for the first time since Rolling Loud Miami 2021, armed with his bottomless catalog of hits. The festival closes with Lil Uzi Vert, who makes his debut as a Rolling Loud headliner. From his famous stage dive at Miami 2018 to his live debut of "Futsal Shuffle" at California 2019, Uzi has been a fixture at Rolling Loud, and his first Rolling Loud headlining set will be one of the most anticipated moments of the weekend.
In addition to the heavy-hitting headliners, Rolling Loud California 2024 promises a host of special performances. For the first time–in a move that befits the Southern California culture–Rolling Loud welcomes four regional Mexican artists to perform their corridos for the multicultural crowd: San Bernardino's own Hot 100 hitmaking banda Fuerza Regida, "corridos tumbados" godfather Natanael Cano, red hot singer-songwriter Junior H, and rising artist Chino Pacas.
As always, Rolling Loud California brings a laundry list of hip-hop's finest, providing a timely snapshot of a moment in the genre's history. The lineup boasts performances from A-listers like Don Toliver, Rae Sremmurd, Chief Keef, and Big Sean, ascendant superstars like Sexyy Red, Ski Mask The Slump God, NLE Choppa, That Mexican OT, and Flo Milli, rapid risers like Kaliii, Luh Tyler, Veeze, DD Osama, BigXThaPlug, BLP Kosher, and Maiya The Don, and a host of legends and upstarts from L.A. and the West Coast, including YG & Tyga (performing a special joint set), 03 Greedo, Larry June, Mozzy, Bluebucksclan, 310Babii, and many more. This edition of Rolling Loud California also brings a heavy R&B presence, highlighted by Summer Walker, PartyNextDoor, Bryson Tiller, and Jordan Ward.
Rolling Loud California 2024 follows up a massively successful 2023 edition, headlined by Travis Scott, Future, and Playboi Carti, which was the first music festival ever to take place at Hollywood Park. The upcoming L.A. fest is part of Rolling Loud's 2024 World Tour, featuring festivals throughout the year in several cities across multiple continents. Most recently, in July 2023, Rolling Loud took over its hometown for Rolling Loud Miami, its flagship festival.
Throughout 2024, Rolling Loud commemorates "10 Years Of Rolling Loud," celebrating the festival's rise from humble origins to world dominance. Since the first Miami festival, Rolling Loud has evolved into a major force in hip-hop, providing a massive stage for rap's biggest names, giving early exposure to future superstars, including Travis Scott, Juice WRLD, and Ice Spice, and inspiring some of the most memorable moments in the genre's recent history. Under the leadership of founders Matt Zingler and Tariq Cherif, Rolling Loud has become a leading brand in the world of streetwear, with merchandise included in prominent retail establishments across the country, and just last month, made its first venture into professional sports with a brand new Los Angeles-based Rolling Loud team in the Overtime Elite basketball league. Now, Rolling Loud is hip-hop's biggest stage, with star-studded festivals across the globe and more milestones to come.
Stay tuned for many more announcements about Rolling Loud California and other upcoming events, and be sure to follow Rolling Loud on Instagram for in-the-moment updates.
© 2023, Seth "Digital Crates" Barmash. All rights reserved.