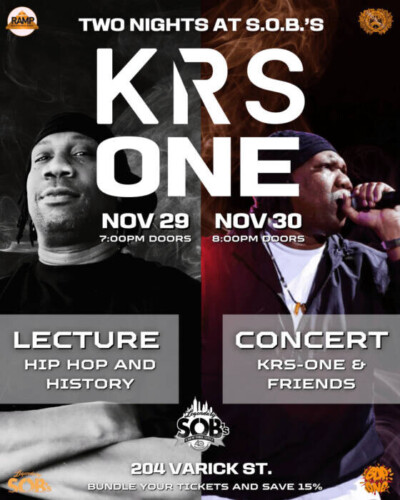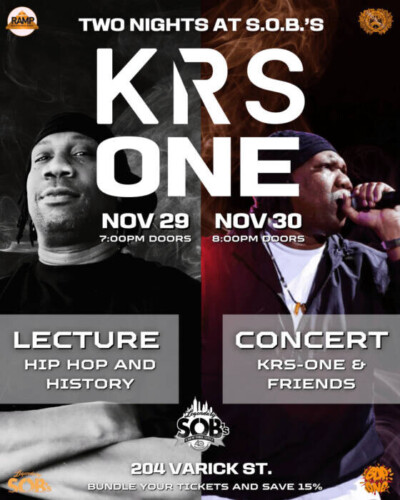 KRS-One first hit the S.O.B.'s stage in the 1980s, becoming a long-time friend and performer of the venue for years to come. Known for iconic hits like "Sound of da Police," "Love's Gonna Getcha," and "My Philosophy," KRS-One is a household name, dubbed the "conscience of Hip Hop" by Rolling Stone and the "spokesperson for Hip Hop" by the Wall Street Journal. In 1996, KRS-One established the "Temple of Hip Hop," a collective dedicated to the documentation and education of Hip Hop's history, impact, and legacy.
He returns to S.O.B.'s for two nights to celebrate hip hop, history, & culture. For more information about KRS-One, see here.
An NYC staple for over 40 years, S.O.B.'s is a legendary live music venue celebrating the musical wealth and heritage of the Afro-Latino Diaspora. Throughout the 1980s and 1990s, S.O.B.'s was solidified as the Manhattan hubspot for hip hop, with legends like DMX, Wu-Tang Clan, Snoop Dogg, and Tribe Called Quest hitting the stage. S.O.B.'s has remained the home of hip hop in NYC, with later superstars like Drake, Kendrick Lamar, Nicki Minaj, Jack Harlow, and more kickstarting their careers on the legendary stage.
For more information about S.O.B.'s, see here.
© 2023, Seth "Digital Crates" Barmash. All rights reserved.