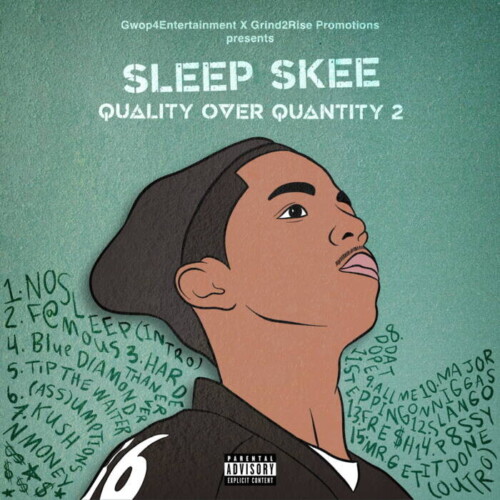 "Blue Diamond" is the latest single from Sleep Skee's upcoming album Quality Over Quantity 2. The track showcases the artist's signature smooth flow over an energetic beat, with lyrics that reflect the success of his earlier projects like Bottles N Spirit, Futuristic Flow, MyLifes2Real4TheInternet, Quality Over Quantity, and Unleashed And Unleashed: ReVamped. He is possibly the first artist to release a Deluxe on Spotify. In an industry saturated with talents, Sleep Skee has stood out as an independent artist for his unique voice, free beats, and unparalleled understanding of the business side of the industry. 
Sleep Skee is a rising star in the music industry, with a loyal fan base that continues to grow. With multiple talents that range from producing, writing, marketing, and performing, he is a true creative at heart. His unique approach to music has earned him over 3 million Spotify streams, 2 million Soundcloud streams, and 2 million YouTube streams. He has also won Best Rapper at the local Hip Hop Awards in his city, solidifying his place as a recognized artist in the industry. 
With his upcoming album, Quality Over Quantity 2, Sleep Skee continues to set himself apart from the crowd. This album has been three years in the making, and it is clear that Sleep Skee has put in the work to ensure that each track is a masterpiece. The first single off the album, "Blue Diamond", is a testament to his dedication and hard work. The track is a perfect representation of Sleep Skee's style, with high energy and skillful lyricism that will keep listeners engrossed. 
Sleep Skee's success is not only due to his unique approach to music but also his ability to connect with his fans on a personal level. With over 800K followers on Twitter, 100K followers on Instagram, and 25k subscribers on YouTube, he has a loyal following that continues to support him. This support has allowed him to remain independent and signed to his own label, Gwop4Entertainment. 
As an artist, Sleep Skee has always been a rebel. He refuses to be put in a box or to move in a certain way that does not align with his vision. This mentality has allowed him to remain true to himself, and it is evident in the quality of his music. 
His upcoming album, Quality Over Quantity 2, is set to be a game-changer in the industry. The album is scheduled to drop on June 23 this year, marking his explosive comeback after a hiatus. It is undoubtedly a highly anticipated project among his fans. Sleep Skee believes that Quality Over Quantity 2 will connect with people from all walks of life where they can simply "Sit back, turn the volume up, and enjoy the sound of a master at work." 
Sleep Skee is optimistic about Quality Over Quantity 2 as he devoted three precious years to making it. He says, "Timing is everything, and this industry helped me understand 'time'. This project has been years in the making because I understand quality over quantity. I've always felt like that would be my ticket." With the release of the latest track, "Blue Diamond", he is hoping to rise higher in the music industry. He believes that his hard work will pay off and his dreams of partnering with big names in the industry will become a reality.
© 2023, Brxton. All rights reserved.